New Tool News from the International Woodworking Fair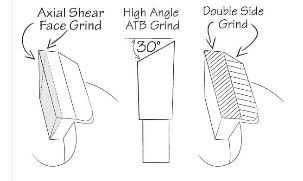 There is good news and bad news about this year's International Woodworking Fair (IWF). Let's start with the bad. There certainly are fewer exhibitors geared toward the home shop woodworker, and you have to cover lots of acreage to uncover tools of interest to the Fine Woodworking reader.
The good news is that we've gotten a lot of exercise, and we did manage to uncover some nifty new tools that are already available or soon to be arriving. We're here for another couple days, and we're bound to find more, but here's a sampling of what we've found so far.
Shear-cutting tablesaw blade leaves no tearout
Freud Tools unveiled the Next Generation Premier Fusion General Purpose tablesaw blade. This 10-in. blade has an innovative tooth grind, call the Fusion Trio, for the top, sides, and face. The special grind makes for an incredibly smooth, quiet cut, with no tearout at all, even in chip-prone woods like oak (we saw the results during a demo). The Freud reps say the standard blade will sell for $99; the thin-kerf model will retail for $79.
General International rolls out new drill press and dust collector
General International is launching a load of new tools this coming year. The one that caught our eyes is a new floor standing 17-in. drill press (model 75-165). This cast-iron beast features a 5/8 in. chuck with 3 1/8 in. of spindle travel. The 3/4 hp motor is variable speed, from 280 to 2,100 rpm, mechanically adjusted via a hand lever–no need to lift the lid to adjust the belt. The drill press will sell for $570, according to the company.
Sliding table for SawStop saws
SawStop's accessory sliding crosscut table was a welcome sight, one of the truly innovative products we've seen so far. The sweet sliding table will fit any SawStop saw, including contractor models. The table and fence are made from "aircraft-grade" aluminum, picked for its lightweight and strength. With the table you can rip or crosscut stock up to 48 in. deep, and the fence extends out past 58 in. That's big capacity. The table will be available this fall, and will sell for $999.
Veritas introduces a new router plane, and a slick track for their shooting plane
At the Lee Valley booth, we got a close look at a new medium-size router plane that uses the same blades as the their large router plane. You can buy the plane with a 1/4in. blade ($109) or without a blade ($99). We also saw a track for their shooting plane. It's designed to attach to your shopmade shooting board, and guide fences down both sides that prevent the plane from wandering as you push it forward though the cut. UHMW tape on critical surfaces result in a very smooth riding plane. the tracks comes in two length: 16 in. ($42.50) and 24 in. ($49.50). There was also some hook rules being released under Lee Valley's Utilitas brand, and a very cool broad hatchet.
Budget pocket-hole machine has professional features
The new Kreg Foreman, the latest incarnation of the company's professional level pocket-hole machine, can cut pocket holes up to twice as fast as standard pocket-hole jigs. Its $400 price is less than half that of its predecessors (which it is replacing), the Kreg Electric and Pneumatic Foreman machines ($850 each).
The table is cast aluminum, and the base is a strong molded plastic, which means the machine weighs about 20 lb. It has single-handle operation, an adjustable fence, and can handle stock between 1⁄2 in. and 11⁄2 in. thick.
The Foreman is also Kreg's first machine that can cut all three sizes of pocket holes. It comes equipped to drill standard-size pocket holes, while Micro-Pocket and heavy-duty holes can be made with accessory bits. The drill has a quick-change chuck to speed up bit change
Triton introducing more tools to the U.S. market
Although Triton has long sold a wide range of tools in other countries, the company is best known in the United States for its plunge routers. That could change in the upcoming year, as Triton is set to introduce a much greater variety of power tools to the States.
At the forefront is Triton's WX7 Workcentre. In its simplest configuration, the Workcentre is a clamping table, but you can add a saw module to turn it into a tablesaw. There's also a router-table module.
Also watch for the geared eccentric orbital sander ($270), which has a 6-in. pad, metal gearing, and two operating modes: one for rapid removal of material, the other for fine sanding. two other tools on the way in 2015: a track saw ($315), and a router table.
Freud's latest Fusion blades have teeth that are ground to create a shear cutting action.
On General International's new drill press, you can adjust the speed without opening the top to move the belts from pulley to pulley.
Crosscutting on a SawStop will be a whole lot easier with the addition of the company's new crosscut sliding table accessory.
Triton's forthcoming router table has a very slick low friction top.
The new medium router plane from Veritas uses the same blades as it's larger brother. There are 8 imperial blades and 5 metric To choose from.
The new Kreg Foreman, the latest incarnation of the company's professional level pocket-hole machine, can cut pocket holes up to twice as fast as standard pocket-hole jigs.
Catch all the latest woodworking and machinery news from IWF Atlanta 2014, one of the biggest woodworking and machinery fairs in the world.