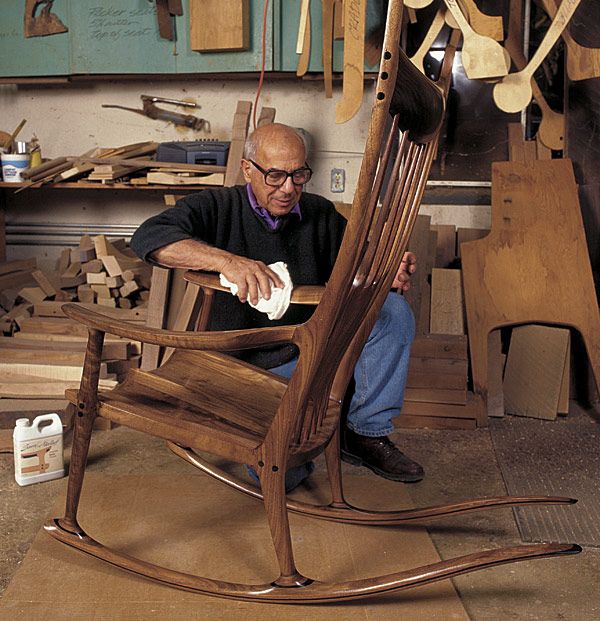 Celebrated woodworker and furniture icon Sam Maloof died Thursday at his home near Rancho Cucamonga, Calif., the Los Angeles Times reported. He was 93.
To this audience, Maloof needs no introduction or historical summary. His signature sculpted woodwork, best illustrated by his famous rocker, is immediately recognizable and many times reproduced. Some would say he invented an entire brand of furniture making with his freehand bandsaw techniques and sculpted parts.
Born in 1916 in Chino, Calif., the son of Lebanese immigrants, Maloof began his woodworking career around 1948 when he gave up his job in graphic design for his first furniture commission. Within ten years, Sam Maloof's name was known to woodworkers and his collectors around the world, which include Ray Charles, Former President Jimmy Carter, and Former President Ronald Reagan.
In 1985, Maloof received a prestigious Mac Arthur Foundation "Genius" Fellowship, and he has earned even greater admiration among contemporary furniture makers and woodworking enthusiasts who attribute Sam Maloof as their inspiration.
SAM MALOOF
Read the Fine Woodworking interviews
– NEW: A never-before-published Q&A session with Editor Asa Christiana. Read more
– NEW: Christiana's remembers Sam Maloof. Read more
– Christiana's interview with Sam Maloof on furniture design from FWW #179. Read the article
– Fine Woodworking's Rick Mastelli profiles Sam Maloof in 1980. Read the full text
– Roland Johnson chronicled his day with Sam Maloof in May 2008. Read more.
Establishing his legacy
The video below is an interview we recorded with Maloof on his 90th birthday, which corresponded with the ground breaking of a massive arts center he built next to his historic home. In the video, Maloof and his second wife, Beverly, talk about the gallery and museum they built to pay tribute to Maloof's legacy and jumpstart new artists by showing their work.
Maloof also speaks about his beloved first wife Alfreda, who died in 1998. He credits her as the original inspiration for his life's work. "If it hadn't been for her love for me and for what I do, this wouldn't have happened now," he told Fine Woodworking.
Highlights from a legendary career
– 1916: Born Jan. 24 in Chino, Calif.
– 1948: Marries Alfreda Ward Maloof and began his career as a furniture maker
– 1971: First featured in the Smithsonian American Art Museum collection at Washington, D.C.'s Renwick Gallery
– 1976: His furniture is exhibited in the public collection at the Museum of Fine Arts in Boston
– 1984: Received a Fellowship Grant from the National Endowment for the Arts
– 1985: Featured in the 20th Century American Design exhibit at the Whitney Museum of American Art in New York
– 1988: His furniture is exhibited in the public collection at the Metropolitan Museum of Arts in New York
– 1992: Received an Honorary Doctor of Fine Arts from Rhode Island School of Design
– 1995: His furniture is added to the White House Collection of Arts and Crafts in Washington, D.C.
– 2001: the Smithsonian American Art Museum creates a special exhibit of his work, including one of his rocking chairs (pictured above), in an exhibit titled "the Furniture of Sam Maloof Retrospective."
– 2001: Marries Beverly Wingate Maloof following the death of Alfreda
– 2003: Maloof's hand-built home receives the State of California's Governor's Historic Preservation Award and is relocated to its current location as a living museum
-2009: Dies at his home in Alta Loma, Calif.
Post a comment below to leave a thought or personal story about the life and times of Sam Maloof.