The Riesener Project: Restoring the 18th century in 3-D
A restoration of some of the 18th century's finest furniture, over five years in the making.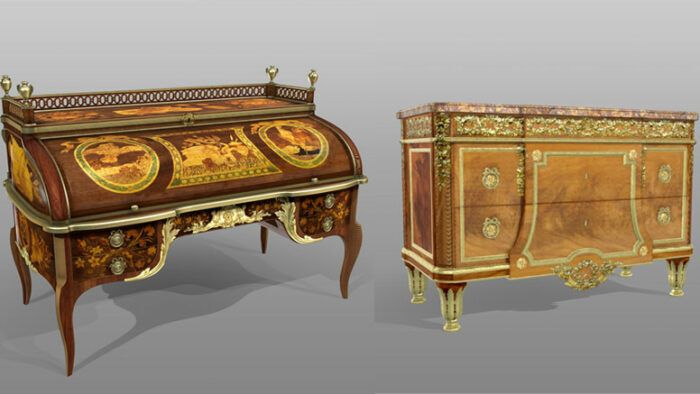 There exists a myth that wooden furniture is best when it is untouched. But let's be real and quote Yeats: things fall apart. And it's OK. Very often, cherished pieces of historic sentiment do not exist without extreme intervention. Many of the wooden objects sitting in collections and museums are under the protection of teams of conservators. These individuals are armed with the training and equipment to recreate and restore damaged wooden goods in laborious processes of restoration. Restoration is where I would like to introduce you to the Wallace Collection. The recent 'Riesener Project' brings some of the most complicated pieces of the 18th century to the 21st: online and in 3-D. Think Bridgerton for woodworkers.
Named after the esteemed royal cabinetmaker Jean Henri-Riesener, the Riesener Project included innumerable hours restoring incredibly complicated pieces. This project included over five years of research and restoration, much of which is available online. For restoration lovers, there are videos of the intense marquetry work and analysis of dyed woods and veneers.
For construction nerds, there are even 3-D models of some of Riesener's most popular pieces. The models are interactive as well, so it is possible to pull out the insides of a whole drawer while discovering the hundreds of tiny pieces of hand-cut marquetry that covered the drawer front. I cannot stress this enough: This online collection is next level. It even won the 2021 Apollo Award for "Digital Innovator of the Year."
Riesener's pieces present a few different aspects of pre-industrial furniture that are often misunderstood. There exists a myth that solid hardwood is best and all veneer is bad. In reality, veneer adds incredible versatility to the utility of a tree. Curvy shapes, flat tabletops, complicated geometric or transcendental artwork, these are all possible because of veneer. 18th-century pieces, such as Riesener's work, frequently include ornately veneered surfaces, some of which were removed and replaced to depict the current politics of the time. Riesener's commissioned work stands as some of the most amazing pieces of decorative art to this day. And it is very likely they stand only as a result of the intense and innovative restoration treatments.
To explore The Riesener Project at the Wallace Collection, visit their site with interactive videos and exciting essays on history, materials and techniques.