Mastering the Card Scraper
This simple tool transforms the way you prepare surfaces.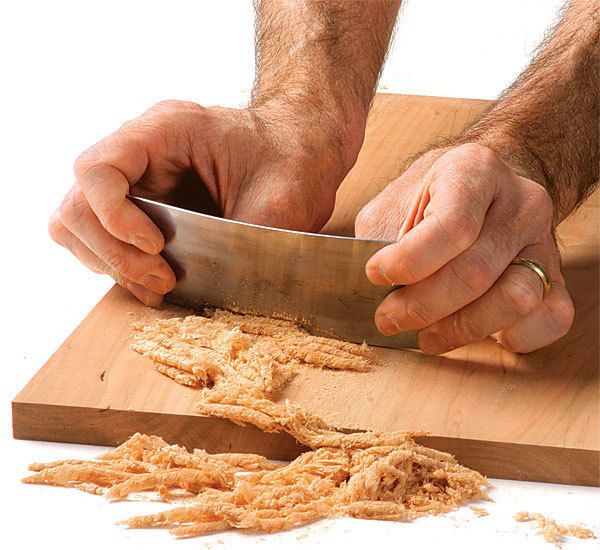 Synopsis: Take a tutorial on using the card scraper — a simple tool that, once mastered, will help you smooth surfaces and transform your work.
Of all the tools in my shop, my favorite is the basic card scraper. It's nothing more than a thin piece of steel that costs a few dollars, but it greatly reduces my least favorite part of woodworking: sanding.
The scraper cleans up tool and milling marks, levels glue-ups, and smooths surfaces. It removes material as efficiently as sandpaper but doesn't leave scratches in its wake. A scraper is easier to control than a handplane and can surface tricky grain where even a well-tuned plane does more harm than good.
Tuning a card scraper is relatively easy using only a mill file, sandpaper, and a screwdriver. Using a card scraper takes practice, but only a little. In a very short time, you'll be able to cut continuous shavings akin to those you get with a handplane.
Tune-up starts with a mill file: New scrapers need a tune-up, and you'll have to repeat it from time to time, but the good news is that the process only takes three or four minutes.
First, file the long edges flat and square to the faces of the scraper. You can clamp the scraper in a vise and work the edge freehand with a standard mill file, or lay the file flat on the bench and work the scraper across it. Take full-length strokes until you feel and hear the file cut continuously. Next, flatten the scraper's faces. Use a flat sharpening stone or 180-grit wet-or-dry sandpaper attached to a flat surface. Don't work the entire face, just the leading 1⁄2 in. or so. Use all eight fingers to apply even pressure, and work until you see a smooth surface with fresh steel exposed all the way to the edge. Then move to 320-grit paper to achieve a cleaner surface. If I'm trying to achieve a very fine, finish cut, I sometimes move on to 400 or even 600 grit.
These filing and flattening steps build up a "wire edge" of thin and brittle waste material that must be removed. To do this, hold the face of the scraper at 90° to the stone or sandpaper and work the edge using light pressure. It's easier to maintain the 90° angle if you skew the scraper. After a few strokes, the wire edge should fall off. If not, give the faces of the scraper a few passes across the sandpaper.
For the full article, download the PDF below:
From Fine Woodworking #201
View PDF