INI - Quik-Crank Blade-Tension Crank for Bandsaws
An aftermarket tool to aid in setting the blade tension on most 14-in. bandsaws.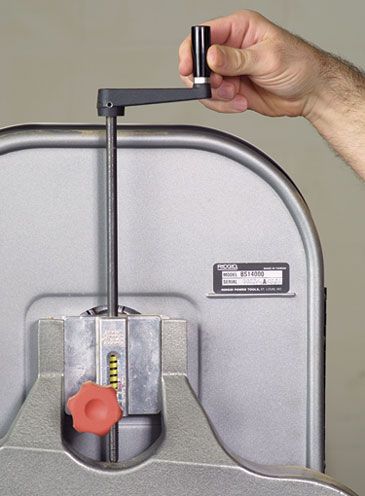 Any bandsaw that gets a lot of use is likely to have a tension knob that also gets regular attention. That's because, before the blade can be changed, the tension must be removed by turning the tension knob. Also, to reduce stress on the wheels, tires and bearings, many bandsaw owners like to remove the tension from the blade at the end of the day and retension it before the next use.
But bandsaw manufacturers, especially makers of the popular 14-in. size, don't always make this an easy step. Many of these bandsaws have the blade-tensioning knob tucked alongside the upper wheel cover, a location that is awkward and inconvenient for most users because it makes it difficult to fully grip the knob.
Other manufacturers make an effort to improve convenience by using a longer threaded rod, one that extends above the wheel. That's a big help, but the rod usually is topped off with a small knob that's a chore to turn.
Recognizing a need here, two companies now sell aftermarket tension cranks designed to make things easier. INI of Eden Prairie, Minn., sells the Quik-Crank, and Iturra Design of Jacksonville, Fla., markets the Spinner. Both models use a longer rod that extends above the upper wheel, where there is plenty of room for a hand. Instead of a knob, the Quik-Crank has a crank handle and the Spinner has a crank wheel.
Each model installed in just minutes. And although each one offered a slightly different feel, they both made it considerably easier to add or remove tension. If you use the tension knob a lot, I think you'll find these products to your liking.