Gallery
what we do when they leave us alone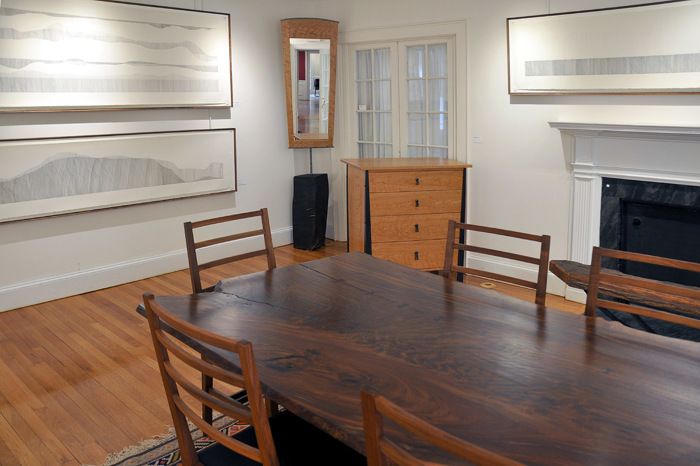 because of the historic complexities of selling both to the public directly, and through galleries, i have not often (like since the late 80's or 90's) participated in gallery shows except on a 'piece here, piece there' basis … too complicated. but, when the prestigious southern vermont arts center (they've had shows like andy warhol, dale chihuly, and ken noland..) offered us a 'solo' (ok, one of 9 solos at the same time, but still … )two years ago, we took the bait … sam and will and i were just hitting our stride as a design team and i thought it would be cool to do a show highlighting our collaborative efforts. we chose a theme of 'wood and steel; colors and textures' and had to submit an artist statment and photo in january of 2011 for their 2012 show catalog…. it seeemed soooo far away. needless to say, deadlines focus the mind, and i delivered the last two pieces friday afternoon at 3:00, the day before the opening, and we were all set … so except for the chairs, there's wood and metal in all the pieces, color and texture in a couple of them and, for a change, we got to figure out what to do on our own … in a business where 99% of the time, the client with the check is driving the bus, it was nice to do a few pieces 'as we wished' and as the only furniture makers in the winter show, we're all pleased to be included with the traditional 'flat art' that the SVAC is known for … it's nice to do a little stretching once in a while .. there are process and background production photos on our dorset custom furniture blog, including a relatively detailed one on the chestnut bullseye mirror process … and one on some of the other pieces above … enjoy the show !
a claro walnut salb dining table, some ladderback chairs, a cherry and steel mirror and bureau
reclaimed chestnut mirror on stand, with milkpaint
bullseye mirror on burned locust and polished rebar base
a sapele lounge chair and a reclaimed chestnut and steel side table ... steel rose by sam mosheim
a reclaimed chestnut and steel console table,
14 x 60 x 31
hewn chestnut and steel bench
'bethlehem steel' bureau and corner mirror
the whole deal ... not a big room actually, but it all fit in
careful early planning with marta allowed us to figure how my pieces would not interfere or block any of her work
marta johansen believe it or not, some of these drawings are ONE CONTINUOUS LINE ...
the claro walnut table and chairs ...