Projects and Plans
Forget What You Know About Workbenches
A simple system of beams and bases does everything a traditional bench can, and more.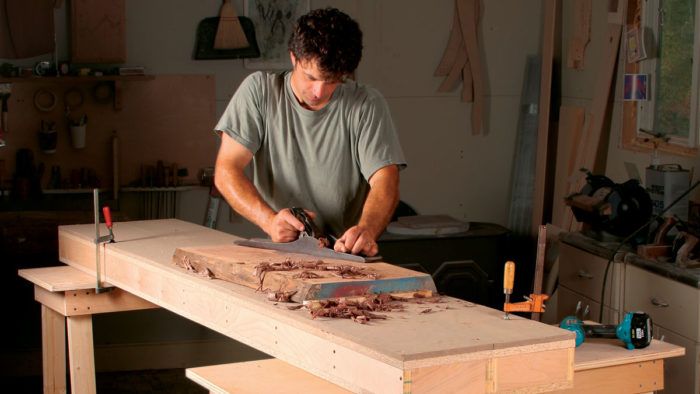 Synopsis: Josh Finn's workbench is a model of versatility. It features two long, narrow torsion-box beams with Homasote tops and melamine bottoms. The beams rest on two wide bases that have a sawhorse-type design. You can build this inexpensive bench in less than a day. It can accommodate any task that can be done on a traditional bench, can be set up on different configurations for any job, and can be broken down and stored out of the way. The Homasote and melamine offer interchangeable work surfaces that are great for sanding, finishing, and mounting benchtop machines.
---
When I opened my first shop 12 years ago after years of apprenticing with other woodworkers, one of my first decisions was about my bench. I needed something that could accommodate the usual handwork for furniture making—planing, chiseling, and sawing—but I also wanted a bench that could serve as a work station for machine setups and for glue-ups. This versatile bench was the solution.
The design is a combination of a couple bench systems I had seen over the years. I worked in one cabinet shop in Brooklyn, N.Y., where the central assembly area was a set of fairly low benches with homasote 440 fiberboard tops. The soft homasote protected the casework from dings, and the nonslip surface was ideal for sanding. I found the other piece of the puzzle in a friend's upstate New York shop: two torsion boxes held up by sawhorses, a space-saving idea that also offered flexibility and strength.
I took the important details from those shops, added a few ideas of my own, and incorporated them all into this bench system. It features two long, narrow torsionbox beams with homasote tops and melamine bottoms that rest across two wide, sawhorse-type bases.
Although I have my father's classic bench, an old Hammacher Schlemmer solid-maple workhorse with a face vise and a shoulder vise, it remains in my shop primarily for sentimental reasons. I now use this system for 98% of my benchwork. Even without vises and benchdogs, my bench design can accommodate any task that can be done on a traditional bench. It offers more flexibility, allowing me to set it up in different configurations for any job, and it can be broken down and stored out of the way. Plus the materials (2x4s, melamine, plywood, homasote 440) are inexpensive (less than $150).
You can build this bench in less than a day, and you don't need a bench to make it (the usual conundrum when a beginner tries to make a big, traditional hardwood workbench).
Construction couldn't be easier: It makes sense to build the bases first, so you can assemble the beams on them. As you decide on a height for the bases, keep in mind the possibilities for multiple uses. Mine sometimes double as outfeed tables for my tablesaw. That height turns out to be a very comfortable working height for me. If your bases aren't going to do double duty as mine do, you should tailor their height to your own working preferences. In your calculations, don't forget to account for the extra 5 in. of the beams.
The bases are simple to build using glue and screws. The tops and stretchers are 3⁄4-in.-thick plywood. The legs are made of 2x4s. But you can use solid furniture-grade lumber and mortise-and-tenon joinery if you wish.
From Fine Woodworking #202
For the full article, download the PDF below:
View PDF