Tools & Materials
Waxing Machinery vs. Using Kerosene
Mike Pekovich, Anissa Kapsales and Ben Strano debate whether to use wax, kerosene or an aerosol woodworking lubricant on jointer beds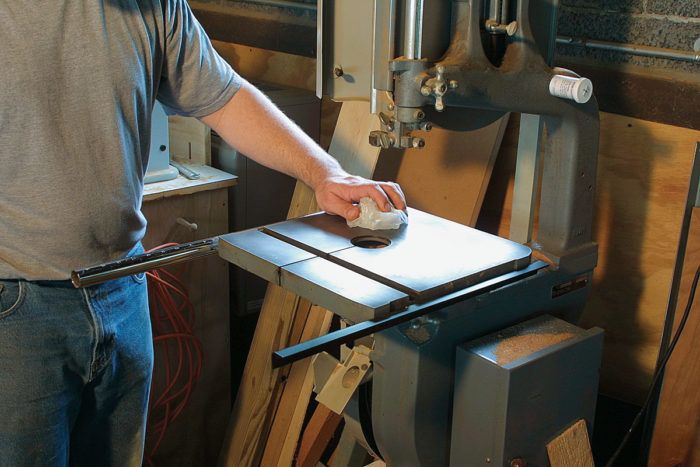 Question from J: Hey folks, I recently volunteered to be the shop manager for my local guild of woodworkers.  We have a 16" Oliver that apparently, according to some, must never have its bed waxed. They prefer it is cleaned only with kerosene, the reason being that it's believed waxing a jointer bed will cause glue joints to fail. Any merit to this train of thought? Or can I just wax it and make everyone's lives easier?
---
Anissa Kapsales: Wax. Wax the bed.  It's not going to interfere with a glue joint.
Mike Pekovich: Yeah, I'm not buying that the wax is gonna interfere with a glue joint, either. Just make sure you buff it off really well, and it won't leave a residue. People also ask me, "If I wax the bottom of my hand plane, is it going to inhibit the finish or the glue joint?" No, it doesn't.
Anissa: I like the ritual of getting the wax out, cleaning off the bed, putting the wax on, and buffing it off. I do it two or three times a year. And then everything just moves so smoothly through the jointer. 
Mike: I think wax is too messy, and it doesn't inhibit moisture that well, so it doesn't inhibit rust either. I like having some protection, so I use that GlideCote spray stuff. It's in an aerosol can, and it's fast to use: "spray, wipe, done: let's go." It makes everything really slippery.
Although, Bob Van Dyke, who used to use the spray stuff, has started using crumpled up wax paper. He's sold on that.
Ben Strano: I use SlipIt, which is a lubricant that comes as a wax or a spray.
This conversation is an excerpt from Shop Talk Live episode 183.
More on FineWoodworking.com:
Protecting Surfaces in the Shop – Machines, jigs and benches all benefit from being sealed and waxed
By Chris A. Minick #167–Tools & Shops 2003 Issue
3 Methods For Removing Rust – Rollie Johnson demonstrates how to remove rust from your tools and keep it at bay
By Roland Johnson #272–Tools & Shops 2019 Issue
Video: Cleaning Up A Rusty Tool – Rusty tools are a problem for every woodworker at some point, in this video we'll show you how to make that problem go away
By Ben Strano #272–Tools & Shops 2019 Issue