How-To
Level Big Slabs in No Time Flat
This shopmade router jig, designed by Hollywood star Nick Offerman, levels thick slabs to create Nakashima-style tabletops and other unique pieces.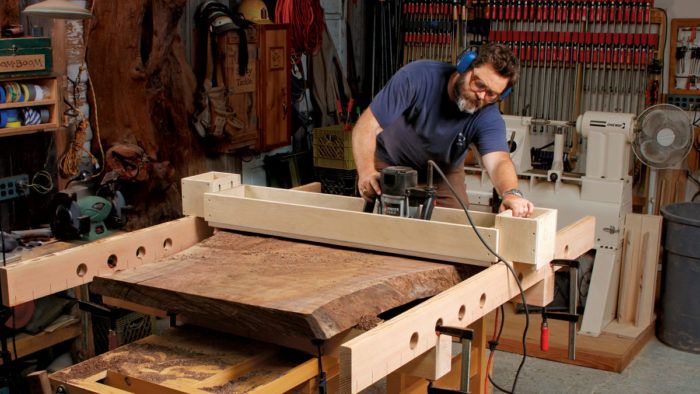 Synopsis: This shopmade router jig, designed by NBC sitcom star Nick Offerman, levels thick slabs to create Nakashima-style tabletops and other unique pieces. The heart of the jig is a trough that guides the router over the workpiece, allowing you to even out the high and low points as much as possible and retain the maximum possible thickness. It works relatively quickly, leaving only a few minutes of sanding left to do. For thicker slabs, Offerman shares a technique for routing flat channels in the bottom to hold the table base and leaving the rest of the bottom surface rough. He also shows how to clean up the sides and sand for a finish.
---
Nothing elicits greater gasps of delight from my clients than when I simply oil a piece of furniture and let the wood do the talking, in its velvety language of grain, figure, color, and magic. That's right, I said magic. You may think I'm waxing rhapsodic, but those woodworkers who have seen quilted figure jump out of a piece of newly oiled walnut know what I'm talking about. It follows that wood will speak its magic the loudest when it is altered as little as possible on its journey from inside the tree to underneath your dish of beef stew. don't get me wrong, I love a Queen Anne highboy as much as the next pilgrim, but I also love to take a slab or block of wood, make it level and usable, put a hand-rubbed oil finish on it, and send it out into the world. Actually, I get my younger brother matt to move those pieces. They are as heavy as heck.
How a farm boy became an actor became a woodworker
I grew up among a family of Illinois farmers (natural carpenters and mechanics) and, despite my best efforts to escape this farm tradition with a career in break dancing, I was ultimately forced to hang up my parachute pants. when I enrolled in the theater conservatory at the University of Illinois, my ambition far outreached my talent, and I found myself being cast in plays accordingly. my greatest role in college was the 92-year-old Ferapont, the butler in Chekhov's "Three Sisters," with a grand total of three lines of dialogue. my saving grace was that, while all of the seasoned 20-year-olds from Chicago were masterful in their character work, they had literally never hammered a nail, let alone heard of a cordless drill. They could play the starring roles, but I could build the scenery!
From Fine Woodworking #222
Download the PDF below for the full article, including all of Offerman's tips and tricks for flattening wood slabs with a router jig. We've also included additional links on working with and flattening large slabs.
Get more on Slabs from FineWoodworking.com:
View PDF