Flattening Tabletops
Surface large slabs and panels without big machines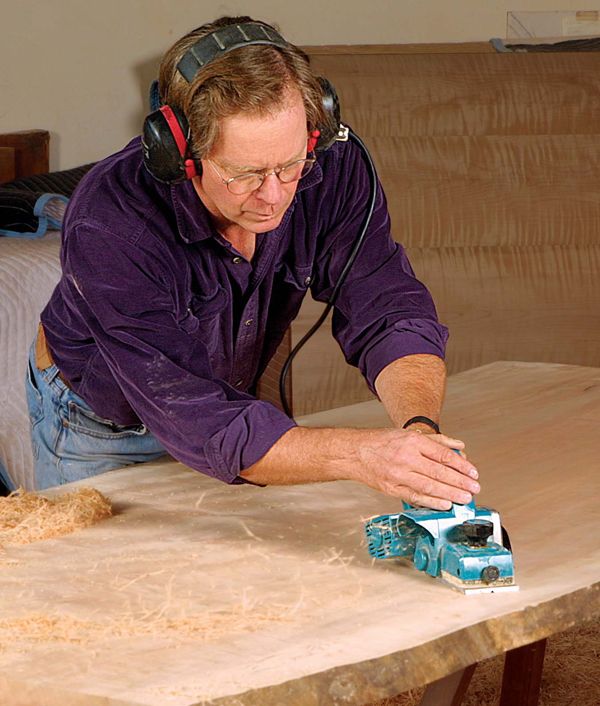 Synopsis: You can take all the warp and twist out of a large slab of wood with hand-held tools: winding sticks, a power planer, a belt sander, and a palm sander. Using furniture maker Rob Hare's method, the power planer does the bulk of the stock removal and flattening, while the winding sticks help locate areas where the slab cups, bows, or twists. The sanders finish the job.
I build furniture that incorporates large slabs of wood. Early in my career, I had no access to large machines, so I developed a method for flattening large planks using winding sticks, a power planer, a marking gauge, a belt sander, and a palm sander. The process is so reliable and efficient that I continue to use it for most wide panels, even for small tabletops. While this article focuses on a thick, wide plank, a slight variation of the technique will work for glued-up panels and slabs, such as the top of a workbench or trestle table.
Inspect the slab before planing it
Begin by assessing the curvature and grain pattern of the plank to gain insight into how the tree has grown and how the wood has moved up to this point. Then sight down the surface of the rough plank to get a feel for where wood needs to be removed and how the plank might respond to being cut. Also, measure the edges, looking for variations in sawn thickness. Be aware that variations at the edges can be deceiving, leading one to think the plank is stressed and twisted rather than just unevenly sawn.
If the piece of wood is to be cut down in width or length, do that before attempting to flatten it. Try to eliminate the areas that are the most twisted or seem the most stressed, based on your initial survey. Leave an extra 1 ⁄2 in. of length and width on all four edges, to be trimmed off later. The additional surface area at the edges will add stability for the planer and sander.
Placing the slab on sawhorses keeps the work at a comfortable height. I often cover the sawhorses with moving blankets to protect the edges and surfaces of the wood. Do not clamp the plank to the sawhorses, which will restrict the wood and give inaccurate readings as the plank is being flattened. You can fasten stops to the horses or on your workbench to keep the workpiece from shifting.
Winding sticks are your guide
You'll need a set of three shopmade winding sticks, 1 in. wide by 2 in. thick, and 12 in. longer than the width of the plank. Winding sticks point out inconsistencies in a surface: twist, when the four corners of the surface are not in the same plane; bow, which is curvature along the length; and cup, which is curvature across the width.
From Fine Woodworking #173
For the full article, download the PDF below:
View PDF