Video
Machine Setup: Adjusting Jointer Tables
Woodworking instructor Matt Wajda shows how to set the jointer tables using only a straightedge and some scraps of paper.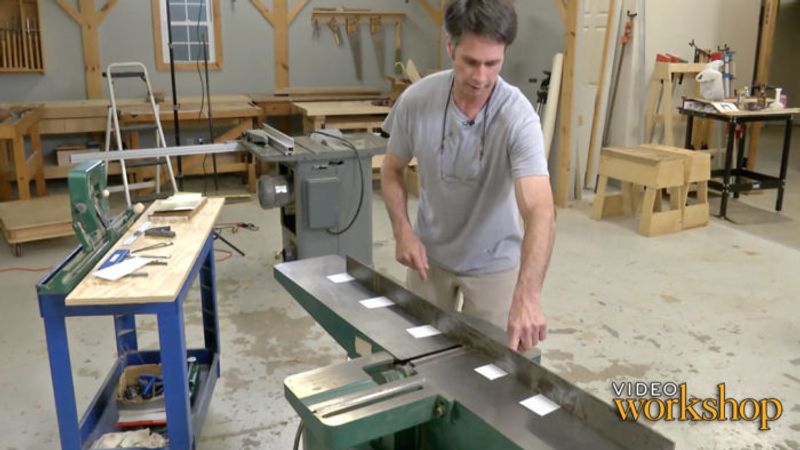 When a machine is tuned up and maintained properly, it will not only make your woodworking more accurate, but it will also make your time in the shop more enjoyable. Woodworking instructors Matt Wajda and Ellen Kaspern have spent countless hours behind machines making furniture, and they've also taught classes on setting up and maintaining machinery. In this video workshop series, Matt and Ellen will show you what they know, guiding you through each critical machine in the shop.
Ellen will show you how to tune up your tablesaw: making the miter slots parallel to the blade, setting the fence parallel to the miter slots, setting the tabletop parallel to the angle of the blade, and finally lubricating all of the moving parts.
On the bandsaw, Ellen will make sure that the blade is tracking properly by setting the wheels coplanar to each other, crowning the tires, and setting the tilt and tension on the top wheel. Finally she'll set the bearings and guide blocks.
On the planer, Matt will set the bed parallel to the cutterhead and set the knives. Then he'll use a gauge block and a shim to set the cutting circle, infeed rollers, pressure bar, and outfeed rollers. To finish it off, he'll clean and lubricate the machine.
Matt will also show how to tune up the hollow-chisel mortiser, setting the fence parallel to the chisel, making sure the bed is perpendicular to the fence, and ensuring that the chisel and tables move smoothly and accurately.
In this episode
Matt will demonstrate how to make sure jointer's tables are coplanar, checking for wind and shimming if necessary. In the next episode he'll show how to set the knives using the outfeed table as a reference, and set the depth of cut.