Projects and Plans
Crosscut Sled for Large Panels
Steve Fikar's panel sled is guided by a single runner in one miter slot attached to a torsion-box base to keep the sled light.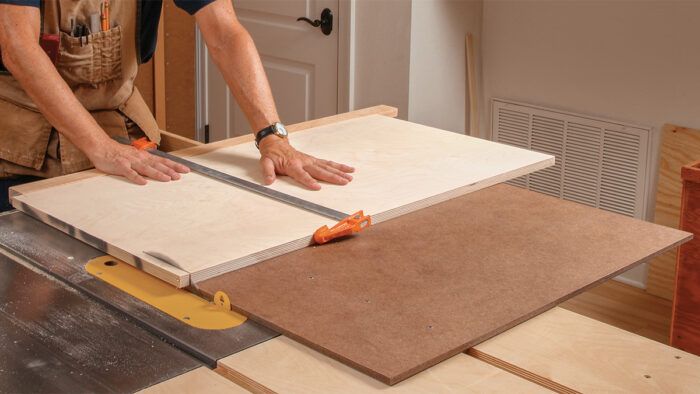 Synopsis: Crosscutting large sheet goods accurately can be a challenge, so most woodworkers turn to a crosscut sled. The typical design tends to be very heavy when built to hold a large sheet, so Steve Fikar designed this sled, guided by a single runner in one miter slot, that runs along one side of the blade. Torsion-box construction keeps the base from getting too heavy. The single runner is made from a steel bar for durability.
---
I cut out large plywood parts pretty regularly for a variety of woodworking projects, including cabinets for the house and shop. Ripping these big pieces on the tablesaw is easy enough, but crosscutting them accurately is a challenge. A tablesaw crosscut sled will do the trick, of course, but if you stick to the usual design, a large-capacity sled tends to be very heavy. So I decided to start with a clean slate and engineer something unique.
My solution is an extralarge sled that runs along one side of the blade—instead of straddling it— guided by a single runner in one of the miter slots. To add size and capacity to the sled without adding weight, I borrowed a common engineering solution—torsion-box construction—to create a 3⁄8-in.-thick base that is very lightweight yet remarkably stiff and strong.
As they are on all crosscut sleds, the fence and base on this sled are trimmed by the blade, creating zero-clearance support for chip-free cuts and easier alignment. An advantage of a one-sided sled is that only one fence is needed, attached at the front edge.
Steel runner ensures accuracy
The main disadvantage of a one-sided sled, especially a large one with heavy cargo, is the single runner that guides it. If it were made from wood, it would tend to wear and get sloppy over time. So I used a steel bar for this sled—"cold-rolled" at the factory to precise dimensions—which will deliver a lifetime of accurate cuts.
Most tablesaw miter-gauge slots are milled to fit a straight bar exactly 3/4 in. wide by 3/8 in. thick. You can buy a steel bar with these precise dimensions from a variety of online retailers, in a 3-ft. length that's perfect for this project.
Just to be sure, though, measure your miter slots with a dial caliper and read the specs carefully on the bar you're considering. The one I found at McMaster-Carr is perfect for my saw, with a tolerance range from a few thousandths undersize up to 0.750 in. on the nose. If there's any doubt, err toward a slightly undersize bar and dimple it to fit, as shown above.
Start by building the torsion-box base
The top and bottom layers of the base are full sheets of hardboard, while the middle layer is a grid of 1-in.-wide strips with open spaces between, making the base somewhat hollow yet extremely stiff.
From Fine Woodworking #292
To view the entire article, please click the View PDF button below.
---
| | |
| --- | --- |
| | This precision jig eliminates gaps and headaches. |
| | |
| | |
View PDF