Projects and Plans
Japanese Garden Bench
Mortise-and-tenon joinery and outdoor-friendly materials ensure a long, happy life for this Asian-inspired bench.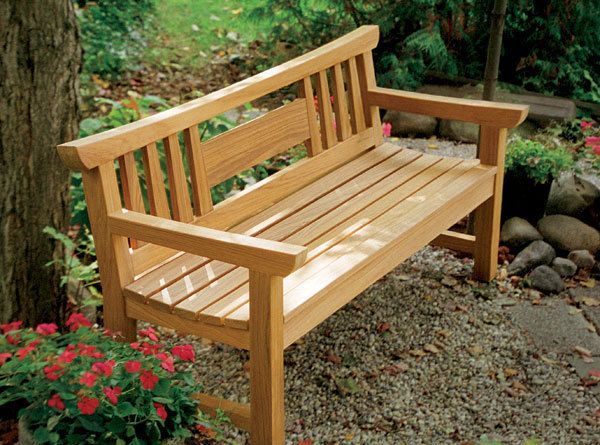 Synopsis: Russell Jensen designed this bench with a blend of traditional Tudor and Asian styles. The curved armrests, crest rail, and tapered back splats contribute to the Asian feel, while the chunky front legs and angled back legs are strictly Tudor. The angled rear legs are shaped on the tablesaw using a tapering jig. Simple mortising jigs ensure that the 40 different mortises used to join the bench are completed quickly and accurately. Jensen used teak for his bench, but gives advice on choosing other outdoor-friendly woods that would work.
A client approached me about a Tudor-style garden bench I had made for the local university. She loved the bench, but wanted something more Asian in style. I decided to incorporate elements from Gary Rogowski's Asian-style bed, adding a curved back rail and armrests as well as tapered back splats with a cross rail between them. The final design is a blending of Asian aesthetics and traditional Tudor style. The curved top rail, armrests, and tapered splats are very reminiscent of Buddhist temple gates in Japan, while the straight, chunky front legs and angled back legs are strictly Tudor.
Since this is an outdoor bench, I used teak. Highly weather resistant, teak is my first choice and is worth the expense and extra care it takes to work, but there are less-expensive woods such as Spanish cedar, white oak, ipé, and jatoba that also work well outdoors. This bench is built almost entirely with mortise-and-tenon joints, and because there are so many, you'll need an efficient way to crank them out. I'll demonstrate a simple template-guide jig for the mortises, and time-tested methods for making tenons to fit. Even though teak can be tricky to glue, the combination of mortise-and-tenon joinery and marine epoxy ensures the bench will last.
Choosing and milling the stock
I made the bench out of 4/4, 6/4, and 8/4 teak. Start by rough-cutting the lumber a couple of inches longer than you need. All the 21⁄2-in.-thick parts, such as the legs, arms, and curved back rail, are made of 6/4 stock glued together with West System epoxy. I do this because 12/4 teak is expensive and hard to find, but it is a good idea regardless of the wood. When choosing stock for the rear leg, steer away from using plainsawn stock on the front of the leg, as this will result in an unattractive, stepped-grain pattern when the angle is cut.
After gluing the legs, arms, and rear rail, allow the epoxy to cure and then mill all the lumber to thickness. now true up all the edges on the jointer and rip everything to width. To give yourself a little play when cutting out the patterns, leave about 1⁄4 in. extra on the width of the curved pieces and tapered back splats.
From Fine Woodworking #198
For the full article, download the PDF below:
View PDF