The artistry of toolmaking
In this gallery, Eleanor Rose shares some of her favorite handmade specialized tools.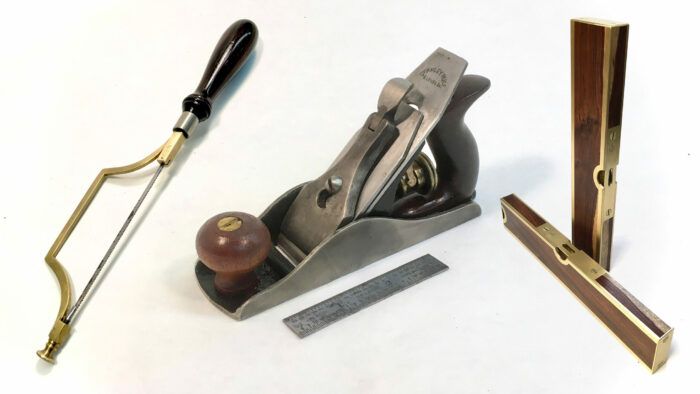 Take one look at the hands of Eleanor Rose and you'll see evidence of the hours she's spent in wood and metal shops. As she says, "I'm more callus than girl at this point." After going to college for woodworking and graduate school for metalworking, she's made a living machining, casting bronze, making furniture, and creating wooden patterns. Though she has refurbished her fair share of tools, her artistry speaks when she's making her own specialized tools. Here, she shares some of her favorites.
---
Replica of the iconic HO Studley mallet
Traditionally cast with a handmade pattern. Dainty and yet packs a punch. Rosewood, brass, beech.
Levels
Vaguely based on Stratton levels. Brass bound to help with wood movement (doesn't hurt that it looks good).
Ornate level
This one is about 4 in. long. Nickel and gold plated brass. Interior has Delrin inserts that have slightly eccentric centers, allowing for easy releveling.
Stanley No. 1 cast bronze replica
Cast iron, brass, wood, steel. Every part of this was raw material when I started it. One of my proudest moments in making.
Mini frame saw
This is brass, steel, and grenadilla. Brass is tensioned via hundreds of light taps of a hammer before finish filing.
Scraper shave
Frequently known as a chair devil. This one is actually a permanent resident of Chris Schwarz's tool chest (the anarchist one).
Trapping plane for use in conjunction with a lathe
Let's end on a weird one. More commonly found in European green woodworking (but works just as well on kiln-dried and the rest of the world). Used to cut tapered spindles/legs as the bottom lever allows for pressure sensitive closing. Great for Windsors.
| | |
| --- | --- |
| | Vic Tesolin thinks that there is something remarkable about using a tool that you have made with your own hands to practice your craft. |
| | Learn how to make functional high-speed steel turning tools from scratch. |
| | Even the smallest chisel you can buy is sometimes too big for inlay and stringing, so make your own, using jeweler's files for the blades. |