Tool review: True Position TP-1935 hardware locating jig
If you're matching up differently sized pieces of casework, the TP-1935 from True Position Tools has you covered.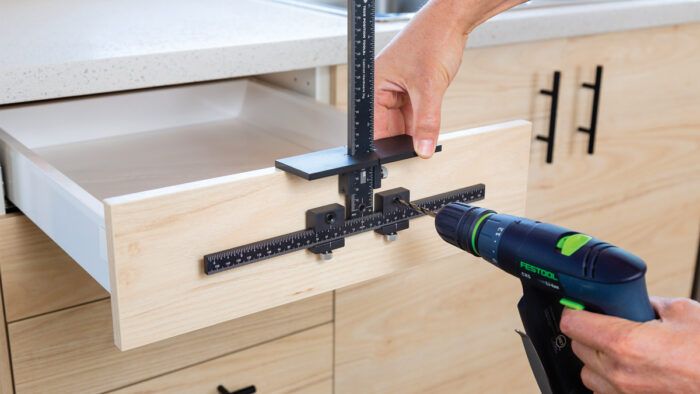 I build kitchens and freestanding furniture, so I install a lot of hardware. My kitchens are highly customized, with casework built to fit particular spaces, so few parts are ever the same height and width. Until now, I'd used a steel rule and tape measure to lay out hardware drilling locations. 
The TP-1935 from True Position Tools has changed that. I expected to find it less useful for my work than it would be for jobs with many identical elements, but because it allows for adjustments in different planes, it proved more than up to the task. I could set the center-to-center location for drilling drawer pulls and adjust the distance from the top of a drawer face using the sliding fence; an extension arm and movable end stop allowed for positioning at the center of a drawer or at the same distance from each end. The same basic setup worked for hinges, pulls, and latches. The jig is thoughtfully designed, made from hardened aluminum with clear markings and parts that fit well. Its instructions are well written and illustrated. Adjustable fences protrude from both faces of the bars, allowing you to flip the jig front to back when positioning pulls the same distance from both ends of a drawer. 
The jig is made for use with the 5mm bit supplied—fine if you're using standard cabinet hardware, but if you don't you can still use the jig to mark the hole locations with a 5mm brad point, remove the jig, and drill. 
—Nancy R. Hiller is a FWW ambassador.