Tools to look out for this spring
Woodpeckers adjustable track saw square and the South Bend 3-phase 19-1/2-in. drill press are worth checking out.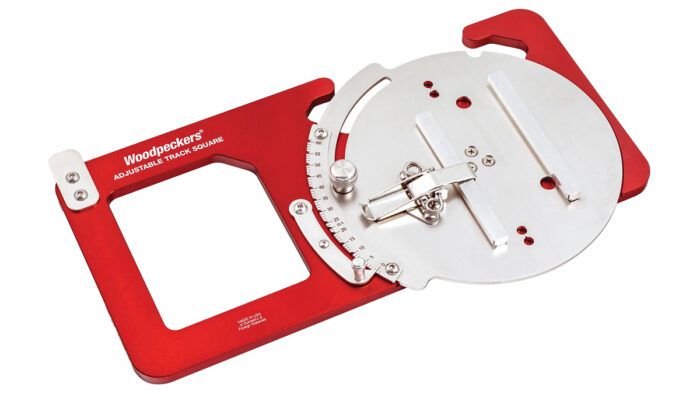 Adjustable track saw square
Woodpeckers has introduced a track saw square that will hold your track from square up to 60°, including detents every 5° and at 22-1⁄2°. The angle gauge can be recalibrated if necessary. The square slides into the underside of tracks, and holds onto them via a clasp. It will fit Festool, Makita, and Triton tracks.
Easy-to-move task light
Rockler's task light comes with a magnetic base and clamping bracket that expands to 2-1⁄2 in., letting you move it from power tools to the workbench. It has a low and high setting, which you can adjust between a wider floodlight and more-focused spotlight. Its flexible neck allows you adjust the light's angle quickly.
3-phase 220 drill press
Thanks to an onboard inverter, this 1-hp, 19-1⁄2-in. drill press from South Bend has a 3-phase variable-speed motor that runs on standard 220-volt single-phase power. The speed control has two ranges, 50–400 rpm and 300–2,000 rpm, with a digital readout. The distance from the spindle to the column is 9-3⁄4 in. The 20-in. by 16-in. table can lower 25-5⁄16 in. from the spindle via a hand-cranked rack and pinion. The spindle can travel 5-1⁄2 in. 
From Fine Woodworking #296