Review: FitFinder 1/2 Gauge from MicroJig
Clever tool from MicroJig speeds up half-laps.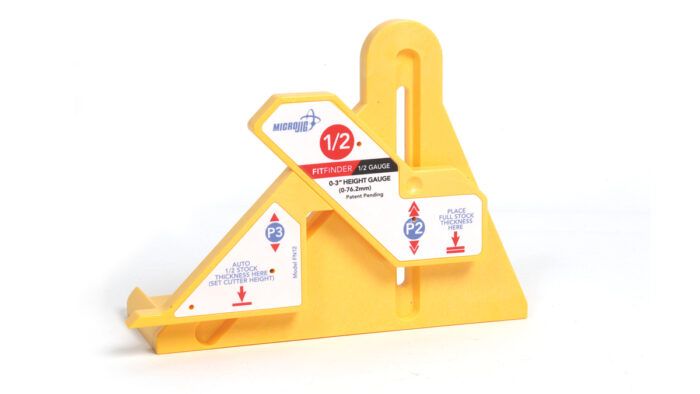 I remember learning way back when I started woodworking that relative dimensioning (or measuring without actually measuring) is often the best way to go. The new FitFinder 1⁄2 Gauge from MicroJig is a pretty clever tool that does just that. Specifically, it quickly finds the center of your workpiece and half its thickness. It is designed to allow you to make layout marks or set up your tool at exactly that measurement without ever picking up a ruler or tape. Having spent endless hours making test cuts and micro adjustments on fences and blade heights, I see a lot of value in this tool. Simply put, the jig is more accurate and faster than any other method I've tried for setting up half-laps, resaws, and numerous other tasks. It makes setting up the router table fence for cuts down the center (a task I've found particularly tricky) a snap.
The tool works using triangle geometry (they did all the math already!). Simply loosen two small knobs in the back, place your stock under the top bracket, and then use the lower bracket as your halfway point. The jig also has two small rare-earth magnets that securely hold the jig to magnetic tables. One of these magnets dislodged from the tool while I ran the jig through its paces, but it was easily glued back into place. Magnet mishap aside, the tool is sturdy and well-made, as we've come to expect from MicroJig. I plan to add this tool to my kit and can confidently recommend it.
—Adam Godet is a furniture maker in Washington, D.C.
Photos: Barry NM Dima