What is a board foot?
A measure of volume, a board-foot calculation is really only pertinent when you sidle up to the lumer yard cash register.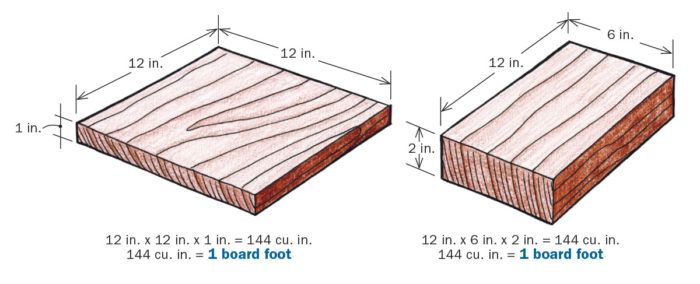 A while back, the following question was posted to our forums, and it brought to light that we don't have much covering the topic of board foot calculations. It's a fundamental skill that often is taken for granted by experienced woodworkers, but confounds beginners.
---
How would I calculate the amount of board feet I need to purchase? Say I am making a face for a floating shelf, 3/4 in. by 2 1/2 in. by 6 in. Do I just punch those numbers in and get the answer? Or do I figure out what raw stock size I need and work from there?
---
Except for dealing with dull tools, lumberyard lingo is one of the most frustrating things when getting started in woodworking. Honestly, when you're looking through a stack of lumber the important thing is to find the best board for the project. Start thinking about board feet only after you have inspected the size of the board and its grain, looked for any imperfections, and made sure that you're going to be able to get the parts you need out of that board.
You really only need to worry about board foot calculations when you're paying for lumber at the lumberyard. Since most lumberyards sell boards at random widths, they can't sell using a per-board price, or a linear price like big box stores. The same way you pay for deli meat by the pound, you pay for lumber by the board foot. It's the lumberyard's way of calculating the actual amount of wood you're buying.
The language of the lumberyard
Here is a quote from Steve Scott's article "The Language of the Lumberyard" that explains it well.
"Lumberyard operators say one of the biggest challenges new customers face is in understanding the board foot—the basic unit of measurement for roughsawn stock. The board foot (144 cubic in.) is confusing because it measures a board's volume, not its length. This means that a piece of stock 1 ft. long can contain more than 1 board foot of material.
A good visual way to understand 1 board foot is to picture a board 1 in. thick by 12 in. wide and 12 in long. Add an inch to the board's thickness, and you now have 2 board feet. To calculate a plank's board footage, multiply its thickness by its length and width (all in inches) and divide the result by 144. In contrast, surfaced lumber is typically sold by the linear foot, a simple measurement of a board's length. The price per foot will vary according to the board's width and thickness."
Real world use of board foot calculations
The only time that I worry about calculating board feet is when I'm trying to see if I can afford to purchase material for a project–or in the ballpark at least. I might look at a design, roughly add up how many board feet of lumber that project will take, and then add 50% to 100%. Why the added percentage? If you're being picky about parts, it's amazing how fast stock gets used up.  Add in mistakes, redesigns, hidden defects, and the fact that I'd rather have lumber left over than wind up needing one last piece, and 50% more than you calculate is a responsible place to start. Your mileage may vary.
Then I'll call the lumberyard, get the board foot price for the species I'm looking for, and calculate about what it will cost for my project. Even after all of the calculations, I have come to expect that my lumber purchases will wind up costing more than I expect.
---
The Wood Whisperer goes back to the basics with a simple explanation of how lumber is cut and sold