The Language of the Lumberyard
Before heading out to the lumberyard arm yourself with these key terms and phrases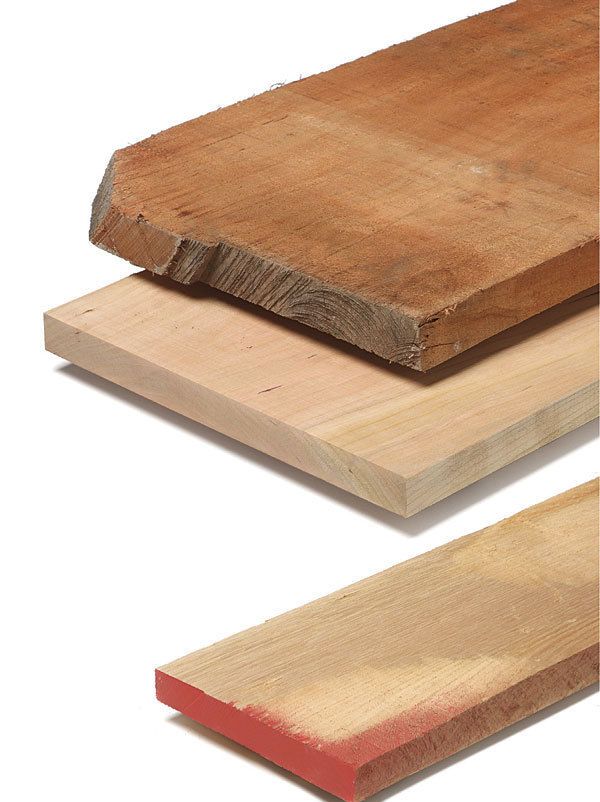 Synopsis: If you are used to buying lumber at the home center, consider your local lumberyard. It offers a step up in quality and variety. You can buy roughsawn stock and mill it to dimension yourself, so you aren't tied down by the standard thicknesses of pre-surfaced material. Don't be intimidated; this primer gives you all the terminology and tips you need to navigate the lumberyard or hardwood retailer and deal confidently with the people behind the counter.
From Fine Woodworking #221
Buying wood at a lumberyard is like ordering dinner in a French restaurant. For the unprepared, the choices are confusing, the menu offers scant help, and the waiter speaks a foreign language. Asking for what you want can be an intimidating and frustrating experience. On the other hand, the offerings in a French restaurant are richer and more varied than the average fast-food joint. Master a few key phrases, and you can eat like a king.
For the woodworker who usually buys stock from the home center, the lumberyard or hardwood retailer offers a similar step up in quality and variety. It gives you the chance to buy roughsawn stock and mill it to dimension yourself, freeing you creatively from the standard thicknesses of pre-surfaced material. Study the dialect of the lumberyard and you'll soon be making sense of the wide variety available there, choosing wisely and dealing confidently with the host (the person driving the forklift).
What follows is a kind of English-to-lumberyard phrase book. Study it and take it with you on your next trip to buy wood.
How it's measured
WHEN AN INCH ISN'T AN INCH Lumberyards measure a roughsawn board's thickness in ¼ -in. increments, so 4/4 (fourquarter) stock is 1 in. thick, 8/4 stock is 2 in. thick, and so on. If your project calls for finished pieces 1 in. thick, you'll want to buy 5/4 roughsawn stock to allow for losses as you mill them smooth. When you buy boards that have already been surfaced, the stated thickness will match the board's original roughsawn thickness. The actual thickness will typically be 3⁄16 in. to ¼ in. less.
WHEN A FOOT ISN'T A FOOT Lumberyard operators say one of the biggest challenges new customers face is in understanding the board foot—the basic unit of measurement for roughsawn stock. The board foot (144 cubic in.) is confusing because it measures a board's volume, not its length. This means that a piece of stock 1 ft. long can contain more than 1 board foot of material. A good visual way to understand 1 board foot is to picture a board 1 in. thick by 12 in. wide and 12 in long. Add an inch to the board's thickness, and you now have 2 board feet. To calculate a plank's board footage, multiply its thickness by its length and width (all in inches) and divide the result by 144. In contrast, surfaced lumber is typically sold by the linear foot, a simple measurement of a board's length. The price per foot will vary according to the board's width and thickness.
For the full article, download the PDF below:
View PDF