Mike Farrington's most-used glues
Breaking down the different types of glues that come in handy in Mike Farrington's shop.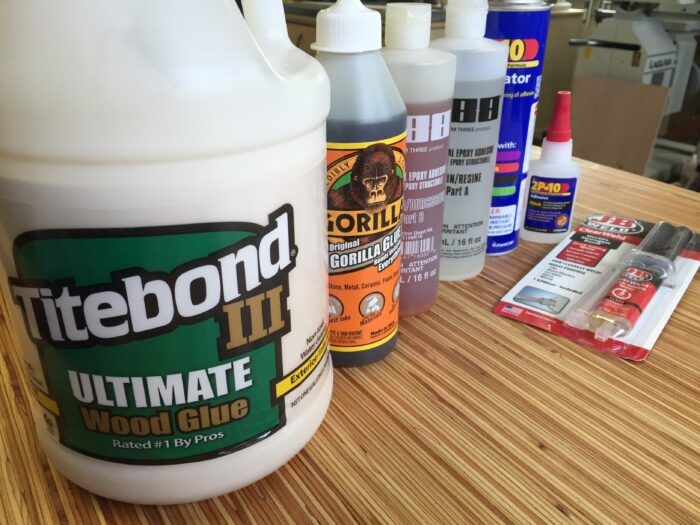 Like most cabinet and furniture makers, I use a variety of glues. Along with nails and screws, glue is one of three ways to join wood. When done right, it is the strongest and most permanent. We are lucky to live in a time when we have so many different glues to choose from. Long gone are the days of boiling hide glue in the morning to prep for the day's glue-up, although a double boiler with hide glue still has its place in woodworking. 
In my shop I use a few different glues. I thought it might be fun to share which ones I use for what and why.
Titebond 3 wood glue
In my shop, traditional wood glue is still king. When I refer to wood glue I mean PVA (polyvinyl acetate). I prefer Titebond 3 and I buy it by the gallon, as that is about the right size for my usage. I like Titebond 3 specifically because it has a slightly darker color that tends to blend in with most wood species. I also like that it is waterproof. While that's not the most important feature, it's nice to know that cabinet doors near sinks won't come unglued from someone washing dishes. I like that it has a slightly longer open time than most other wood glues on the market, about 10 minutes or so. That's a perfect open time for clamping panel glue-ups, doors, drawer boxes, and most other non-complex parts. I will occasionally glue up case pieces with wood glue if I think I can get it done within the 10-minute open time. 
Wood glue doesn't need to be clamped for a particularly long time; 30 minutes to an hour is all that is needed for normal glue-ups. It also washes off with water, so it's easy to get off your hands. It doesn't stick to a vinyl vacuum bag, so it's great for veneering, and I even use it for bent lamination so long as the bend is not extreme. Finally, Titebond 3 is usable down to 45°F (lowest of the PVA glues to the best of my knowledge). It really is my glue of choice.
Polyurethane glue
Next on the list is polyurethane glue. I use Gorilla glue because it is readily available in my area, and I prefer to buy it in 18-oz. bottles. I switch to polyurethane glue when I want a longer open time, which is about 15 minutes, maybe a little more. Another nice feature is that this type of glue is not water-based, so it won't cause the wood to swell when applied. This can be quite helpful if you are gluing up a large box with a ton of finger joints or dovetails. It is also very slippery, so tight-fitting parts tend to slide together with ease.
Polyurethane glue does have a couple of down sides. First, if it gets on your hands, it's a real pain to remove it, but that's also what makes it a good glue. Second, it foams as it cures, so you will need to check back a few times to clean off squeeze-out. Squeeze-out cleans off very easily with a toothbrush and mineral spirits. Last, I work hard to ensure no glue gets on my clamps, because it's a total pain to get off once cured.  
Pro tip: If you are using polyurethane as a finish, consider using polyurethane glue because small amounts of squeeze-out will just disappear when the finish is applied. 
Epoxy glue
If polyurethane's open time isn't long enough, I switch to epoxy. I like T-88 by System Three in the 16-oz. size. I only use long-open-time epoxy when gluing up large or highly complex assemblies. T-88 has an open time of about an hour, perfect for the largest of glue-ups. Like polyurethane, it's not water-based, so parts won't swell and will slip together easily when clamped. It's structural, which means it will fill those less-than-perfect joints, and it will dry super strong. Squeeze-out can be cleaned up with acetone or lacquer thinner. 
Pro Tip: While I am advocating the use of epoxy as a glue with a long open time, it's important to note that it is made with a wide variety of open times. I also happen to really like the 5-minute version with the tips that mix the two parts as it's squished out. This is very useful for job-site work and other odds and ends. 
Cyanoacrylate glue
Next up is CA glue (cyanoacrylate). This is a neat glue that can be useful, but I use it mostly for shop stuff, like making jigs and small repairs. I think CA glue, generally called "super" glue, is too brittle for woodworking. PVA glue is such a good wood glue because it has a little flexibility when dry; this works with the natural expansion and contraction of wood. CA glue is like glass—it has virtually no give. With that said, I find it very useful for jig making because it dries in just a few seconds. It also comes in different viscosities from thin to gel. I like the thin stuff to penetrate deep into a crack that needs repairing. I tend to buy this glue in small bottles because I use a little at a time, and when I buy larger bottles, I end up throwing out dried glue or the bottle gets so trashed that it's no longer usable. 
The aforementioned glues account for 95% of the glues I use in my shop to build cabinets, furniture, and millwork. But there are a couple more glues worth considering. A hot glue gun can come in handy. I have a $10 glue gun from the crafts store that I use for non permanent connections. A version of liquid hide glue can also be useful, especially if gluing up a project built from walnut, as the colors are pretty close.
That's it for this one; see you next time. 
---