When to use screws
Your choice of mechanical fastener should depend on the forces it must withstand.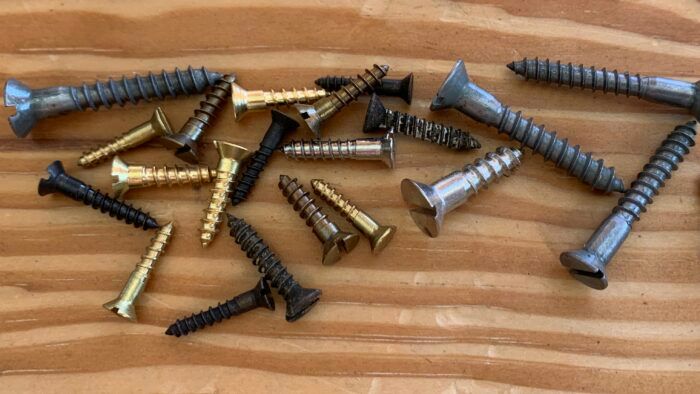 After I wrote about nails a few months back, I received a couple of emails asking why I use nails instead of screws in furniture projects. The short answer is that I don't; I use both. But if there's no compelling reason to choose one over the other, I typically use nails simply because I prefer the way they look. (I'm talking cut nails or square-shanked nails, not wire nails.)
Before I discuss my "compelling reasons," let's take a brief look at the mechanical holding differences between the two: shear strength vs. grip strength.  Shear strength is the amount of force a fastener can handle from the side. Because furniture nails can bend a little bit, they have superior shear strength to screws. Screws are more brittle and can break under shear forces (or more likely, split the top piece of wood on which they're being used). Grip strength (or tensile strength) is the ability of a fastener to pull two pieces of wood together (or the amount of vertical pressure the fastener can handle), and here screws excel. (But cut nails and square-shanked nails have much better grip strength than wire nails.)
So if mechanical fasteners are the only things holding your project together, consider the forces that will want to tear it apart, and choose accordingly. But I almost never rely solely on mechanical fasteners in furniture work. I say "almost never" because the first two sets of bookshelves I ever built (circa 1988) were butt-jointed and assembled with L-brackets and screws – and they actually lasted about two decades, at which point I was simply too embarrassed to keep them any longer.
Instead, I choose screws for specific applications within a project where grip strength is important, such as battens for wide lids and attaching buttons that are in turn used to attach a tabletop (in other words, lots of little battens). Both of these are attached to wide boards above them that want to cup; their job is to keep that from happening. (Nails can't combat that, unless they are clinched.) But key in this application is reaming the clearance holes in the batten or button a little bit side to side, in the direction of the width of the top board; if you neglect to do that, the batten or button could split (it probably won't in a climate-controlled environment, but why temp fate?).
The other situation that calls for screws is when things must be easily reversible – say, the interior fittings of a tool chest. (Who knows – in another 10 years I might decide to hang all my tools on pegboard, and use the chest for blankets.) And hardware installation, of course – though there is plenty of early hardware that is installed with nails.
And about 80% of the time when I'm using screws, they're slot screws. These have to be driven by hand, or with a Yankee driver or battery-powered driver on slow speed, outfitted with a properly sized gunsmith's tip. What is "properly sized?" The tip should fill the whole slot in every direction.
Not only do slot heads look so much better than not slot heads (to my eye), but the Phillips screw (the first "modern" head) was developed for the automotive industry, so it's just wrong on pre-automotive furniture. The only time I use Robertson, Philips, or Torx screws – all of which can be easily driven with a battery-powered driver – in furniture projects is when the screws won't show. I even request slot screws when ordering hardware.
If you're using brass screws, as is common in hardware, drive the same-sized steel screw first to cut the threads, back it out, then drive the brass screw. To make sure you drive the brass screw in the threads you've cut, drop it into the hole and rotate it counterclockwise; you'll feel the screw threads drop into the threads in the wood. Brass screws can snap easily if your pilot hole is even a little bit too small. (The pilot hole should match the diameter of the screw shank.)
I usually order screws from blacksmithbolt.com, not only because the company has a huge selection, but because I can get them in finish other than zinc-plated. I thoroughly dislike the cheap shine of zinc-plated hardware store screws, so when forced to use them, I'll soak them first in vinegar or citric acid to strip the zinc, or touch the screw head with gun bluing to cover the zinc. Or in a screwing emergency, color it with a Sharpie.
I might be too particular. But I don't think so.
---
More from Megan on FineWoodworking.com
On nails – Nails sometimes get a bad rap from modern woodworkers – Megan Fitzpatrick thinks that's because most of the naysayers are using the wrong nails.
Time-Tested Finishes that Just Work – Megan Fitzpatrick prefers finishes that are easy, fast, and foolproof. In her experience, these six check all three boxes.
How to choose a smoothing plane – With so many choices, Megan Fitzpatrick encourages folks to try out a few different smoothing planes before they buy one. But if pushed, she'll tell you to get a No. 3 with a 45° frog.