Tool review: Infinity router bit vise
This two-sided vise holds a bit's shank securely against rotational forces when you remove or replace a bearing.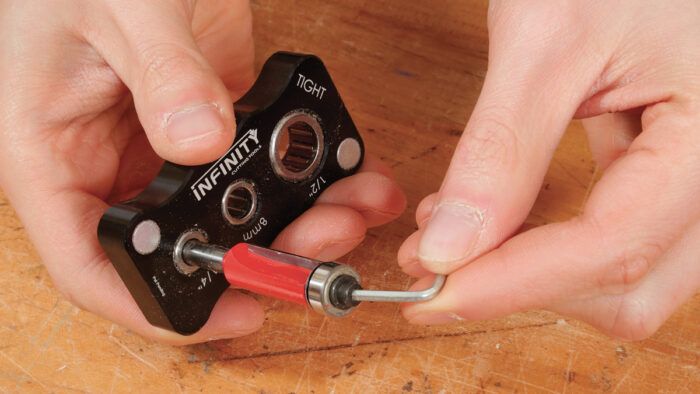 There are some small tasks that prove to be outsize hurdles for me. Tightening or loosening the bearings on router bits, such as when adjusting a rabbeting bit, is one such hurdle. It's a tiny, worthwhile task, but it's also such a hassle. Gripping the bit, staying clear of its cutters, and using a skinny Allen key is frustratingly tricky.
Thanks to Infinity's new Router Bit Vise, that struggle is over. Its simplicity is its beauty. Designed to fit bits with 1⁄4-in., 8mm, or 1⁄2-in. shanks, this handheld vise uses unidirectional needle bearings to hold a bit securely whether you're loosening or tightening a bearing. Inserting the bit from one side holds the bit against clockwise forces; inserting it from the other holds it against counterclockwise ones. For a small, simple tool, it's a tremendously elegant solution. The vise would also work well for holding bits for cleaning.
—Barry NM Dima is an associate editor.
Photos: Barry NM Dima 
From Fine Woodworking #288