Cabinet Teaches Smart Construction
Employing spacer blocks and setup pieces, the techniques Steve Latta uses in building this cabinet remove many of the pitfalls of case construction.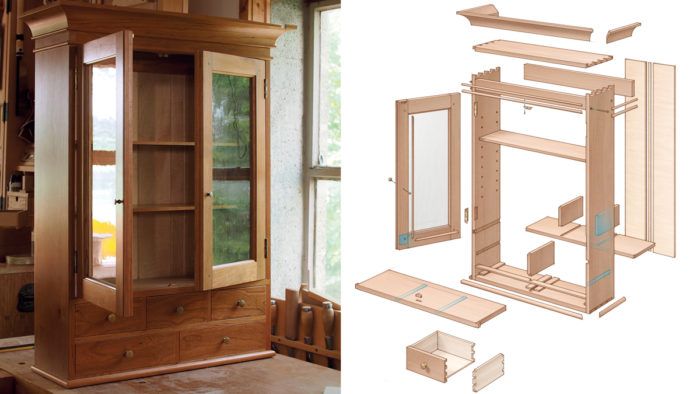 Synopsis: The techniques used in building this cabinet remove many of the pitfalls of case construction. Steve Latta's methods employ spacer blocks and setup pieces to have you building faster and more efficiently. And by sizing parts to his cutters, he removes a lot of fuss from the fitting process. Here he demonstrates his methods for cutting symmetrical dovetails on a rabbeted case, using spacers to make dadoes easier, building from the outside in, and creating clean moldings without measuring.
---
When selecting projects for my woodworking students, I look for pieces that will challenge them, and this wall cabinet fits the bill nicely. Many of its lessons revolve around the case joinery and molding, so I'll focus on those two aspects of this build.
My methods, using spacer blocks and setup pieces, and sizing parts to my cutters, take many of the pitfalls out of building while also streamlining the process. For example, a setup piece might take two minutes to make but save 30 minutes of fitting; or it might prevent a mistake requiring a lengthy repair. Taken together, the strategies here will have you building better, faster, and more efficiently.
Strategy starts at milling
Furniture making involves a lot of test-fitting. With power tools, this often means moving a fence or blade multiple times while making test cuts as you home in on the correct setup. But doing this kind of setup on actual furniture parts is asking for trouble. I never set up machines using the actual stock. It is too easy to make a mistake, leaving me to play catchup.
---
---
Instead, I make setup pieces. I mill them at the same time and at the same settings as my workpieces. They're invaluable, saving time and leading to cleaner results. For this cabinet, make setup pieces mirroring the length and thickness of the top and bottom and the upper shelf. A 5-in. offcut from the top or bottom works great for laying out the case dovetails.
From Fine Woodworking #284
To view the entire article, please click the View PDF button below.
---
View PDF