Dial calipers as planer depth gauge
For precise thickness changes, you can use digital calipers as a depth gauge.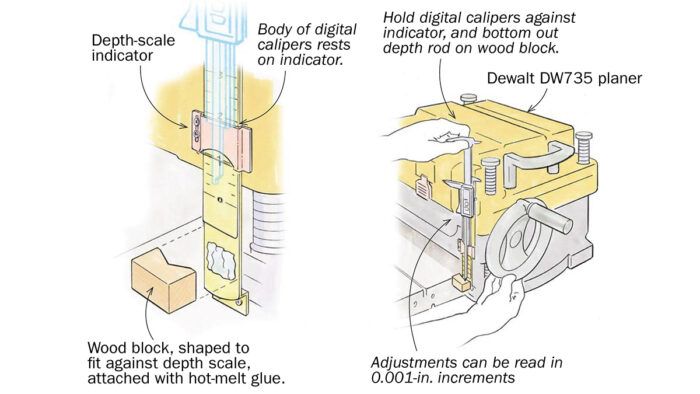 Many planers, including my DeWalt DW735, have an on-board depth gauge. These read in 1⁄32-in. increments at best. Wanting to make much more precise thickness changes, for jobs like fitting slip tenons into mortises, I found a way to use my digital calipers to track changes. All I had to do was glue a wood block to the bottom of the thickness scale. Now, while adjusting the height of the cutterhead, I hold my digital calipers so the end of the body rests on the planer's depth-scale indicator. Then I extend the calipers' depth rod until it hits the wood block, zero out the calipers, and adjust up or down from there. Shape the block to better fit the surface, and attach it with hot-melt glue. Clean the parts with alcohol for a good bond, and make sure the block is level. Some folks achieve a similar result by attaching their calipers to the planer with magnets, but the plastic housing on my DeWalt planer won't allow that.
—GABE BRISSON, Livermore, Calif.
Illustrations by Dan Thornton
From Fine Woodworking issue #307