An interview with chairmaker Brian Boggs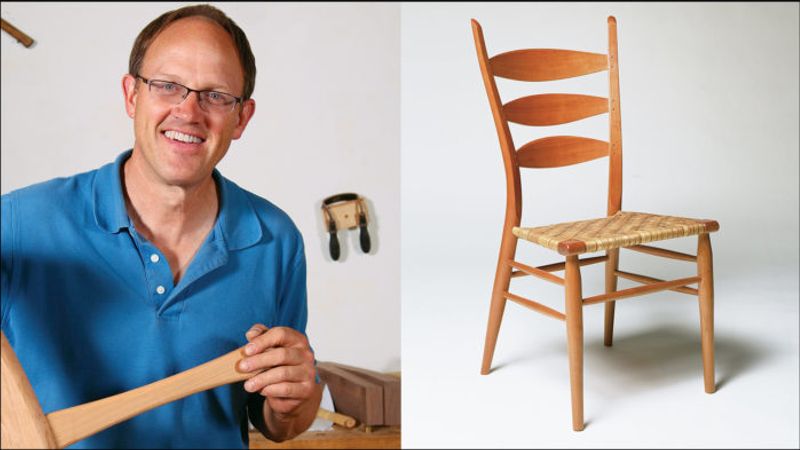 Brian Boggs has been building chairs since 1982, when he was a student of French and philosophy at Berea College in Kentucky. Before that, he aspired to be a fine art painter; he even took a trip to Paris to pursue it. Back in the States, though, after exposure to James Krenov's books, to Fine Woodworking, and to Jennie Alexander's book Make a Chair from a Tree, Boggs poured his passion into chair making. After working in Berea for two decades, he moved to Asheville, N.C., where he and his team build a broad variety of furniture.
In this interview with Brian, we discussed his design process and how he balances form and function in his pieces, particularly his Sonus chair, a purposeful chair designed for guitar players. We also discussed the design process behind functional items such as his Lie-Nielsen spokeshave and his shavehorse.
Of particular interest to those looking to dive into chair making, Brian told us about his plans for passing on information to a whole new generation of woodworkers. Even though his chair-making classes are now taught by Jeff Lefkowitz and David Douyard, Brian is still a dedicated teacher. He is going to be focusing his efforts online through his Q&A-based podcast, the Ask Brian Boggs Show and online at Chairmakers.com. In the coming weeks, Brian will be releasing a plethora of video content and plans for the ladderback chair that has become synonymous with his name.
If you'd like more information about Brian's ladderback plans and videos, follow my lead and head over to Chairmakers.com and sign up for their email list so you can find out as soon as it's available. Also, Brian will have a series of articles on curved work in Fine Woodworking, the first of which is coming out soon in issue #268.
More from Brian on FineWoodworking.com: