Make Your Own Spokeshave
Former Krenov School instructor David Welter demonstrates how to make a wooden spokeshave that will quickly become one of your favorite hand tools.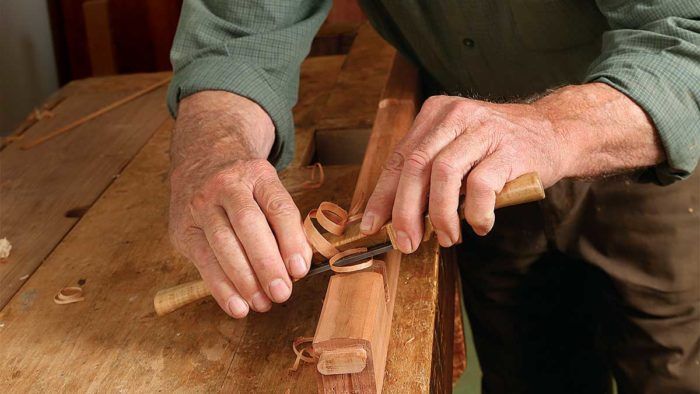 Synopsis: Ever wondered how to make hand-tool woodworking even more enjoyable? Try using a tool that you've made yourself. A spokeshave is a great place to start. It's easy to make, and once you've used it, you'll turn to it again and again to make spindles, clean up bandsawn curves, and quickly create chamfers and roundovers.
---
Part of the reward of working with wood and hand tools is the satisfaction of being directly involved in the interaction of tool and material. That satisfaction grows when you're using a tool that you have made. I learned to make a spokeshave from John Gunterman some years ago. A sensitively tuned spokeshave may not be on the list of tools you thought you'd need, but once its utility becomes apparent, you will look for excuses to use it. The name spokeshave suggests its usefulness in making spindles, but it is indispensable in cleaning up bandsawn curves and quickly creating bullnoses and chamfers.
You can make a functioning shave very quickly; the majority of the effort is in the shaping. Given how easy it is to make a spokeshave, you can make a collection of shaves with different cutting characteristics. I like to have one that is bedded for fine work and one suited for general purpose jobs. A roughing shave will quickly get your work to the point where only a fine cleanup is necessary. I also have a narrow shave with a blade ground to a slight radius at the back for tighter curves.
Most commonly made of beech, spokeshaves can be made with any stout wood; maple is the most readily available. The stock should be 7⁄8 in. to 1 in. thick by 11⁄4 in. wide by 11 in. long. I use a 41⁄2-in. blade made by Ron Hock.
From Fine Woodworking #280
To view the entire article, please click the View PDF button below.
---
View PDF