Recommended resources: Limbert Inspired Coffee Table
Check out our collection of articles specifically picked to help with this project.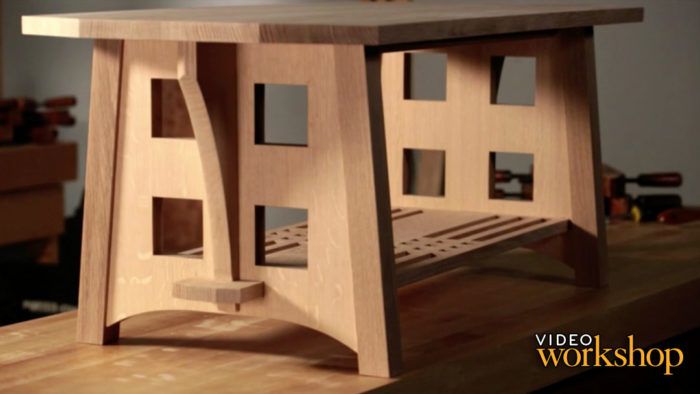 Due to their size, beds can seem like an intimidating project for many woodworkers. Add to that the joinery required in Arts and Crafts pieces, and they can be downright daunting. Thankfully, Kevin Rodel is a master of Arts and Crafts furniture and has made many beds. With his techniques and know-how, Kevin has broken the process down to small steps, that with enough time and care, anyone can follow.
---
This Arts and Crafts-style chair would fit comfortably in a dining room or a library. With its curved back rest and angled joinery, it offers plenty of construction challenges, but a variety of jigs and templates make the curves and angles easier to handle. The back legs are shaped using a template, and a router box simplifies cutting the angled mortises. Another template ensures consistent curves in all of the chair rails. The rails of the back rest are curved on their front and back faces, and the crest rail is arched on its top edge. Both rails are mortised to hold the back splat, a curved assembly of narrow strips.
---
There is a wealth of amazing Arts and Crafts design to be found outside the mainstream—away from the well-known and much-heralded pieces by the likes of the Greene brothers, Frank Lloyd Wright, and Charles Rennie Mackintosh. During the heyday of the Arts and Crafts movement, makers in shops throughout America and Europe drew on the philosophy of that movement to produce furniture that was personal, adventuresome, and distinctive. Here is a look at some of those pieces.
---
Graham Blackburn gives a detailed and richly illustrated introduction to the elements and materials of the Arts and Crafts style. Biographical summaries of each influential maker of Arts-and-Crafts-style furniture accompany his charming, hand-drawn illustrations of furniture pieces by renowned furniture makers, artists, and architects. You won't need further research to have a sound understanding of the era and style.