Don't knock the last person's work
Some people criticize others' work to make themselves look better in the eyes of prospective customers. But Nancy Hiller argues that this is a dangerous way of doing business.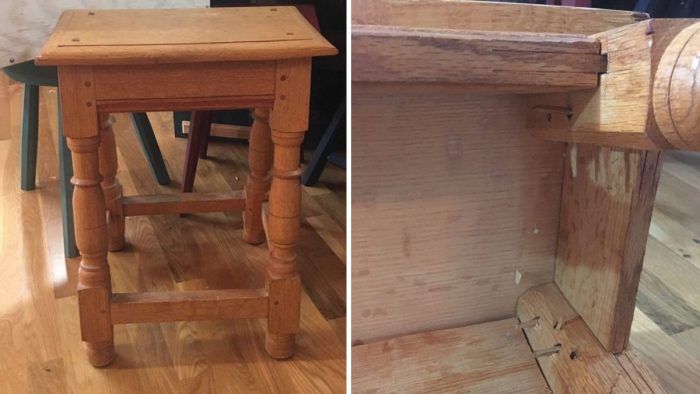 Some people criticize others' work to make themselves look better in the eyes of prospective customers. There's almost always something you can criticize—less than perfect joinery, the use of "inferior" hardware, the underside of a chair or table that was finished to a lower standard than the top. If pointing out such things implies that you work to higher standards, it may help you get the customer's next job. But as a professional woodworker, I've learned to be careful about knocking others' work as a way of suggesting that mine is better.
Ultimately what differentiates professionals from those who are not professionals is not their level of expertise or the standard of their work, but whether they make a living from it.* Sure, when we say that John's highboy and Mary's video were made to professional standards, we're using the word "professional" to denote a high level of craft, but this use does not define the word. I know retired engineers and still-employed philosophy professors, federal workers, and high-school English teachers who are accomplished furniture makers. Sometimes their work is made to a higher standard than that of professionals.
If furniture making is your hobby and something you're really serious about, you may, like many others, spend your vacation time taking classes. (For that matter, you may have vacation time.) Your income may have allowed you to put together a shop that's larger and outfitted with far better equipment than that of many professional woodworkers. If you're building a William and Mary couch or a Wooton desk in your spare time, you may invest as many hours as you wish. Go to town on the details. Let your inner perfectionist reign!
| | |
| --- | --- |
| | The table's underside: a major contrast with the parts seen in regular use, as is typical of craftsman-made work through the centuries |
When furniture making is your livelihood, projects usually come with constraints. While it's true that some customers are financially able to give a craftsperson free rein because they value his or her work so highly, most customers have a budget and at least a vague idea of a preferred deadline in mind**. Do I know how to build furniture with meticulously fitted inset doors hung on traditionally mortised butt hinges? I do. Do I sometimes build furniture with full-overlay doors hung on European-style hinges? I do. The type of door construction, fitting, and hardware I use will vary depending on the style in which I'm working. But it may also be influenced by my customer's budget. Even though I've spent most of my career building furniture and cabinets with inset doors hung on traditional butts (translation: I'm relatively quick at it), I can still fit full-overlay doors (and inset doors) on European-style hinges faster, because the hinges are easy to adjust. If my customers' budget will only allow for European hinges, fine. Just don't come along and criticize the job on the grounds that it was built with "inferior" hardware, because the hardware was integral to the job's specifications. Long before you came along to criticize, I informed the customer of all the pros and cons of each type of hardware and allowed her to decide for herself.
Just as important, different styles and traditions in furniture making have historically called for different levels of finishing on distinct parts of a job. During my training I was taught to finish the underside of a piece to the same standard as the top. This, my instructor emphasized, was simply a matter of craftsmanship. Then I went to work in shops run by others, who insisted I limit this level of care to the parts of jobs that are regularly seen. In terms of function, there was no lessening of quality, but reducing the labor invested kept the work more affordable. Beyond this, when it comes to furniture that continues a historical tradition, such as work done in medieval, Colonial, or various vernacular styles, finishing the underside of a stool or table to the same standard as that of the outside or top violates the historical ethic integral to the style. This is a case where "more" is not "better."
| | |
| --- | --- |
| Joint stool by Peter Follansbee and Jennie Alexander, made for the book Make A Joint Stool From A Tree | The stool's underside: a thing of true beauty. (This is not sarcasm.) |
On those occasions when I do make critical remarks about what the last person did, I qualify them by explaining the points I've made above. I want the customer to know I'm not taking an easy shot at the last guy. You simply can't know all the variables unless you were part of the original negotiation on which the job you're criticizing was based. And if you go around knocking other people's work, you're contributing to a culture that may well come back to bite you, regardless of how good you are.
*Oxford English Dictionary
**The uses of "reign" and "rein" here are correct. "Reign" means rule. "Rein" is a means to control, usually plural, as in a horse's reins. To give someone free rein is to relinquish control, to allow her to run as fast as she wants.
Nancy Hiller is a professional cabinetmaker who has operated NR Hiller Design, Inc. since 1995. Her most recent books are English Arts & Crafts Furniture and Making Things Work, both available at Nancy's website.
More on FineWoodworking.com: