Build a contemporary pencil-post bed
Jeremy Zietz gives this Shaker classic new panache with tapered facets, beveled cutouts, and ebonized ash.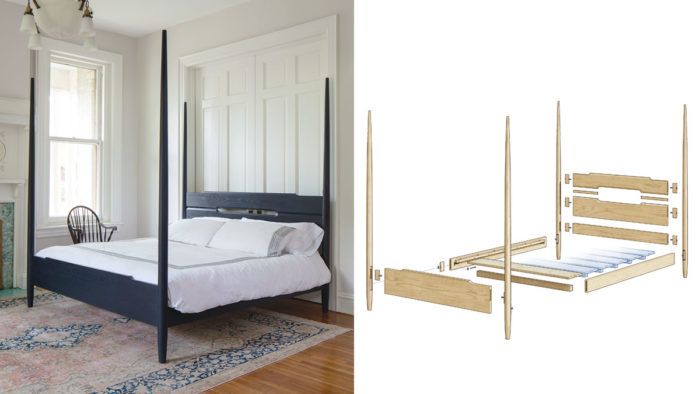 Synopsis: Jeremy Zietz designed a contemporary bed that references several classic forms. The handplaned, faceted posts give a nod to the American Windsor; the cutouts, curves, and wide chamfers evoke Danish Modern design. The streamlined look is possible because if clever joinery that combines slip tenons with steel bolts to hide the bed-bolt hardware. The headboard not only has curves, chambers, and cutouts, but also a rolled top edge. 
---
In designing this bed I set out to make a stately piece with a light, clean presence. I wanted to reference the classic Shaker pencil-post form, but also to make a nod to early American Windsors, which I did with the slightly wandering hand-planed facets on the posts. By adding to those elements some streamlined Danish Modern touches—the cutouts and curves rimmed with wide chamfers on the headboard and footboard—as well as a pigmented finish on the ash, I aimed to bring the piece into the contemporary bedroom while keeping its traditional roots at the forefront.
Sturdy stealth joinery
The joinery was an important aspect of the design. To get four-poster beds as tall as this through doorways and up and down stairs, it's typically necessary for the headboard, footboard, and rails to be separable from the posts. As a result, you commonly find exposed bed bolts on these beds, a look I definitely wanted to avoid. To make the bed rock-solid yet completely knockdown without visible hardware, I crafted a joinery system that combines slip tenons with steel bolts and buried screw plates.
The bed's horizontal members fit into stepped mortises in the posts. The shallower outer mortise accepts the full thickness and width of the horizontal member, and the deeper inner mortise accepts a slip tenon. These stepped mortises (which I cut while the posts were still square) provide strong shoulder contact yet don't require the shoulders to be angled to match the post's taper; and they make for very clean, gap-free joints despite being knockdown. I made the headboard in two stacked halves joined with an unglued spline. Both halves are tenoned into the posts, but they expand and contract independently. I made the joint between the halves a high- light of the design, emphasizing it with wide chamfers and a long, lateral opening.
Post and rail work
I started the build by milling the posts square. Then, to cut the stepped mortises in them, I used paired templates with a plunge router and guide bushing. I cut the outer mortise, then switched to another template to cut the deeper, inner mortise.
From Fine Woodworking #282
To view the entire article, please click the View PDF button below.
---
| | |
| --- | --- |
| | |
| | |
| | |
View PDF