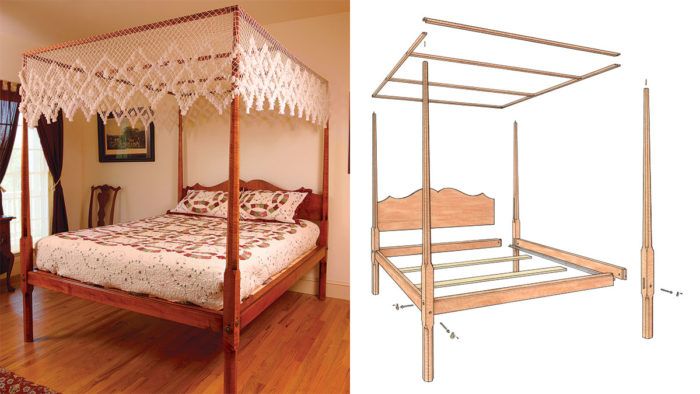 Everybody needs a bed.
Oh, even a dedicated woodworker might make do for awhile without another end table or bookcase or wall cabinet. But at the end of the day, we all need a place to lay our weary selves down. Tradition – among other things – demands it. So here, with Lonnie Bird's help, is how to build a comfortable resting place in traditional style.
Bird's pencil-post bed, which he wrote about in issue #184, features octagonal posts that require no turning, a headboard of tiger maple and a tester frame up top.
The download includes a dimensioned, exploded drawing of the project along with Bird's article with photos of the important techniques and detail drawings of the joinery and necessary jigs.
CLICK HERE to download the free plan
The download shows you how to build a simple router table jig to ensure that the tapered octagonal sections of the posts are uniform.
Multiple color photos illustrate Bird's technique for carving the lamb's-tongue profiles on the posts.