Workshop Tip: The breadboard headboard
Multiple pegged mortise-and-tenons solve the problem of wood movement in a headboard.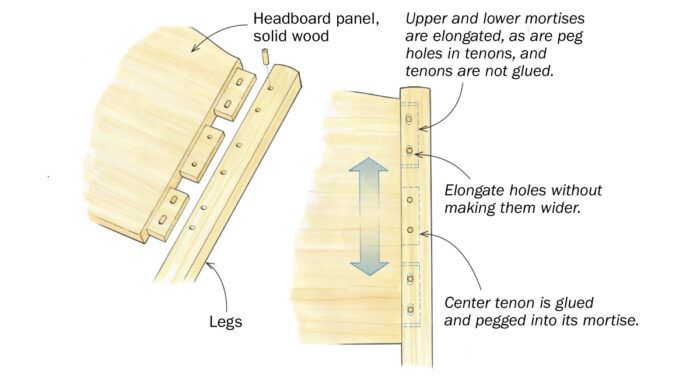 I decided to build a Shaker-style bed with a traditional headboard. This presents a cross-grain joinery challenge where the panel attaches to the posts, and opinions differ on how to solve it. It occurred to me that I could attach the posts the same way breadboard ends are attached: using multiple mortise-and-tenon joints, with pegs passing through elongated holes, drawing the parts tightly together but allowing the panel to expand and contract with changes in humidity. In this case, the center tenon is glued and pegged through standard holes to lock it in place. The upper and lower peg holes are elongated, as are the mortises for those tenons, and the tenons are not glued, letting them shift slightly inside the legs. The peg holes can be offset to help draw the parts together, or not. My breadboard headboard is as solid now as when I built it.
—PHIL GAUDIO, West Simsbury, Conn.
Illustrations by Dan Thornton
From Fine Woodworking issue #299