Designer's Notebook: The Passage of Time
Celebrating trees as natural timelines and storytellers is a thread in Jeremy Zietz's work and is exemplified in this 300-Year Mantel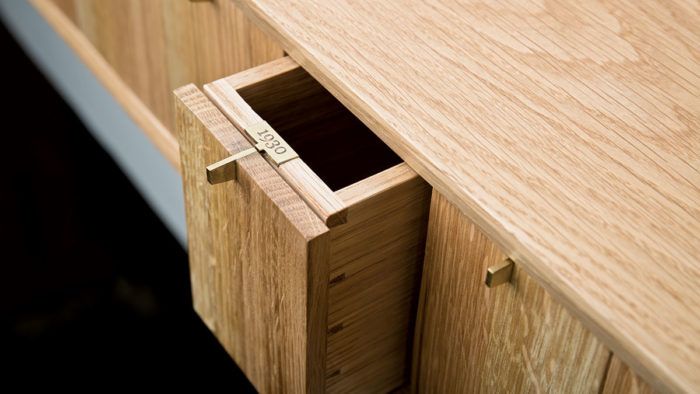 Synopsis: Jeremy Zietz's 300-Year-Mantel celebrates trees as natural timelines and storytellers. The drawer fronts are oriented to show the rings of a tree, with the quartersawn grain of each drawer marking 25 years of tree-ring growth. That makes a 300-year timeline in just over 5 ft. of length.
---
Standing on a tree stump, I feel a solemn weight, a sense of time and the sheer mass once planted there. I can imagine the monolith of the trunk and then, glancing skyward, all the offshooting branches that filled the expanse around it. I look down and marvel at the wavy circumference of the stump and its bark edge, remembering as a child learning that each ring marks a full year of the tree's life.
The rings are a reminder that trees far surpass us in age, growing slowly over hundreds and sometimes thousands of years. The light-colored parts of the rings show exuberant springtime growth and the dark areas mark long dormant winters. To scientists, these rings tell histories of climate, environment, forest fires, and more.
Celebrating trees as natural timelines and storytellers is a thread in my work and is exemplified in my 300-Year Mantel. The concept of the piece is this: By orienting the drawer fronts so quartersawn grain stretches all the way across the mantel, I made an abstract timeline. In this piece each drawer width is measured not in inches, but by 25 years of tree-ring growth.
With 12 drawers, a 300-year timeline occurs in just over 5 ft. of length. While the drawer fronts are not literally a cross-section of the tree, they aim to convey the same sense of gravity and slowness that the tree embodied.
Hand-shaped brass tabs act as pulls as well as indicators pointing to a specific year. The year the piece was made (2015) is marked in the center drawer; the outermost drawers represent the years 1865 and 2165. The resulting case piece becomes a natural archive where a sliver of a note, a faded photo, or a significant memento placed in a drawer can mark a moment in time.
Whatever is stored in it, the mantel should bring new meaning and ritual to the hearth where it might hang—a focal point in the home—and tie the milestones of our lives into the life of the tree. My hope is that when somebody experiences this piece, it sparks thoughts of past and future generations and the span of time in which the tree lived.
-Jeremy Zietz is a studio furniture maker and industrial designer in Richmond, Va.
From Fine Woodworking #273
More on FineWoodworking.com: