Video: Creating a spring joint with a handplane
Bob Van Dyke demonstrates how he creates a spring joint, making it easier to glue up a flush panel or tabletop that requires only light handplaning or scraping.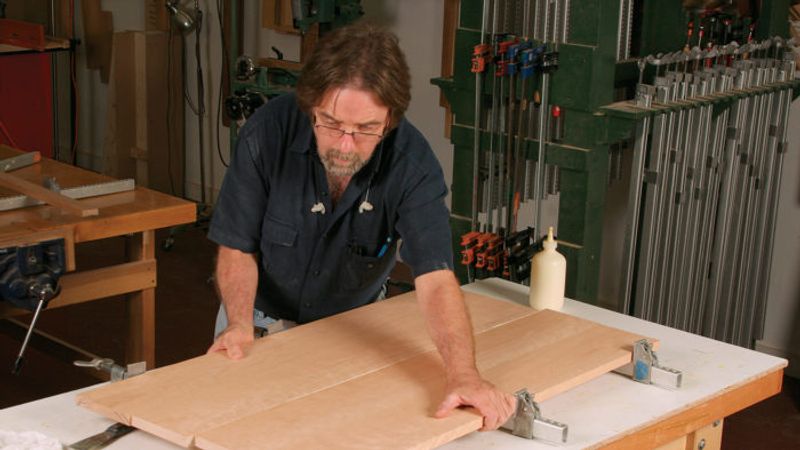 Woodworkers have been using spring joints in large panel glue-ups for as long as they've been using glue. The concept of a spring joint is simple: Create a slight gap in the middle of an edge joint that is then drawn together with clamping during glue-up. The reasoning behind the practice is as varied as the methods used to create it. Many woodworkers sing the praises of the spring joint because, in theory, you only need one clamp to glue up a sizable panel or tabletop. Gary Rogowski uses spring joints in order to guarantee that the ends of his edge joints don't open up over time. Some woodworkers, like Bob Van Dyke and Matt Wajda, create their spring joints with multiple passes of a smaller handplane (such as a No. 4 smoother). Others prefer to use their jointers to create a spring joint. Gary prefers to make multiple partial passes on the jointer, and in a series on making a tabletop, Bob Van Dyke used added pressure in the middle of the board when jointing his edges to create the concavity.
Bob's reasoning is simply that a spring joint makes it easier to glue up a flush panel that requires only light handplaning or scraping. Since the edges of the glue-up touch before the middle, it's easy to keep them aligned as you add clamping pressure and finesse the middle of the board. In fact, as you'll see in the video, Bob can create a panel that is strong enough to take out of the single clamp after 15 or 20 minutes.
with Matt Wajda

Matt shows you how he utilizes a spring joint to glue up boards and how to place your clamps to ensure a flat panel.