Spring joints: An edge glue-up's best friend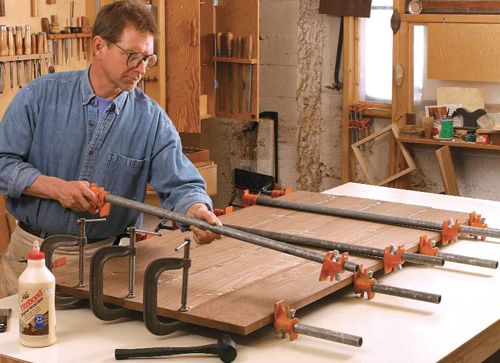 Why not? It's Spring, let's talk spring joints. This simple little curve cut into an edge is the key to survival for many edge glue-ups.
Trees and Wood

A tree and its fibers are very much like a bunch of straws held together. These straws carry water and nutrients up the trunk to branches and leaves. They are incredibly porous in some woods and mildly so in others. But roughly twelve times as much moisture loss occurs out of the ends of these pores or the end grain of a board than does out of the sides of them or the sides of a board. What this means for an edge to edge glue up is that more movement occurs first at the end of a board than it does in the middle.
Wood is also incredibly flexible. You can take two boards that do not have flat edges and clamp them up even with a major league hump in their edges with gaps showing at the ends of the board. You can pull and glue the two edges together with sufficient clamping pressure and the occasional grunt. Great, now we know wood is flexible.
The problem occurs however when wood dries out and expands and dries out and expands, and over time the glue joint is undergoing some major league strain on it trying to hold together when the board wants to pull apart and resume its former natural state. Early in my woodworking life, I had an edge lamination pull apart and I said to myself, This is no good. I can't be a woodworker if I can't keep edge joints together. I had heard about spring joints. How to make them was the question.
Spring joints


The spring joint is a simple arc cut into the edges of your boards so that there is a slight concavity cut along both edges. How much? Not so much that you can see France through it, but enough so you can see a little bit of light through the joint when you hold it up to a light source. This slight concavity has to get pulled out in your glue up which is pretty easy with just light clamping pressure. When you do pull it out, you press the ends together more. This smashes them together good. What happens next is pure conjecture on my part. But I figure you have compressed the long grain fibers enough so that when moisture exchange occurs, either plus or minus, you have some springback there in the wood. The joint wants to hold its original shape and keep touching at the ends and you rely on the glue in the middle of the joint to keep the edge together there.
Let me just say this. Thirty five years after that edge joint failure and with 35 years of spring joints, I've had no more failures. It works.
[[[PAGE]]]
Cutting Spring Joints

There are several methods for cutting them. One is to joint your edges by hand and then with a jack or smoothing plane, fair in a slight curve into the edges. A bit tricky for those of you without sufficient hand skills. The jointer is the method really of choice for me. I start by edge joining my boards flat and square. If I run opposite faces to the jointer fence then square is not really much of an issue [subject of another talk sometime perhaps]. But make sure the edges are flat to begin with.
Next, I put in a hollow starting about 1/4 of the way from the beginning of the board and ending about 1/4 of the way from the end. The jointer manual suggests loosening your gib screws on the outfeed table effectively lowering the back end of the outfeed table. Supposedly this planes a curve into your board's edges. But I find this method risky at best and more liable to mess up my jointer table settings and giving me mixed results.
I prefer to make my spring joint this way. Start with a flat edge as before. Then I start my next cut 1/4 of the way in from the front end by gently lowering the board down onto the cutter head and making a cut for a while and then lifting the board off about 1/4 of the way from the end of the board.
Now this leaves two unsightly ridges in the edges so now the job is to fair those in. Get ready to make a long full pass again. This time start with normal hand pressure on the board. Start your cut and then when you hit that first 1/4 mark start to press down with some force onto the board. This effectively pushes the board into the cutterboard. Remember wood is flexible right? So push down into the cutterhead and feed along and push and feed along and push until you get to the end 1/4 mark and then lighten up your pressure and continue feeding all the way through the cut. You may need to do make this cut two or three times. You may also need to reestablish the hollow by gently dropping the board down onto the cutterhead in the middle two quarters of it.
But by establishing a straight edge first, and then a hollow and then fairing that hollow in, you will get a nice curve cut into your edges. A little bit of light, say 1/32″ for two foot long boards is all you need. Just so when you place the two boards together edge to edge you feel good pressure at the ends. Another method would be to put the nice straight edge into the two boards on the jointer first. Then hand plane in a little hollow. But keep your plane cut square to the face of each board when you do this.
Checking the Joint
Check your spring joint by putting one clamp in the middle of the boards and clamping together. With good pressure at the ends and not too much of a spring joint, one clamp will be able to pull the joint together with no gaps showing along the length of the board on either side. Check be sure the joint closes up on both faces. This method is simple enough for me now that I use it for all my edge joints now. Ah Spring.