7 Questions with Garrett Hack
Contributing editor Garrett Hack answers life's most important questions, like 'what is your favorite tool?'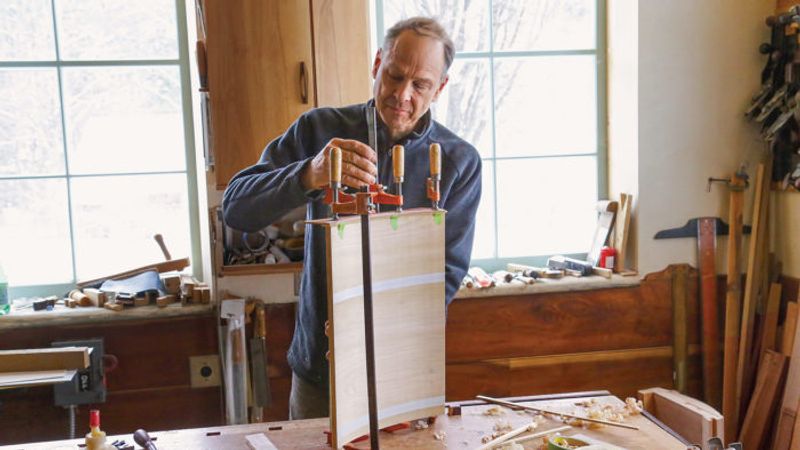 Who is your favorite furniture maker?
David and Abraham Roentgens, the German makers who were making some of the most incredible furniture ever made in Germany in about 1780-1800, and for royalty all over Europe, with secret drawers and secret mechanisms. It was highly marquetried and complex, complex stuff.
What is your favorite piece of furniture?
Oh man, that's a hard question–I have so many favorite pieces.
I would have to say it's a side table made by Jere Osgood. He was my teacher, so I have a sort of an inside view of his work over the years–he's been a friend and peer. He made a side table for a seaside resort that had beautiful ripples on the apron related to the water and it had legs that were sort of reeds in the water. I've gotten a huge amount of inspiration from that piece over the years.
What is your favorite piece of furniture that you've made?
The last piece I made is always my favorite piece!
I have a bunch of favorites. I would say there's not one piece that's a favorite of mine, but I love the piece I did called VaVaVienna, a tall cabinet with ebony facade painted by my wife. I thought the Outside In piece was a really interesting one. That was an over-the-top piece with 23 secret drawers, and lots of different kinds of wood. It was a no-holds-barred kind of commission–just pushed as far as you can go. Those the ones that are come to mind as being really special opportunities.
What is the first piece you were proud to have made?
I was proud of the things I was making because I didn't know any better! I was making work around 1996 or so when Vinnie Lawrence went to a show where I had some pieces, and that sort of validated my work. Vinnie was working for Fine Woodworking at the time, as one of the editors, and he really liked what I did– I think it was the little Shaker side table. It was probably one of my first pieces that really sort of made it into a national magazine, and sort of validated me.
| | |
| --- | --- |
| | |
If you had to choose between making furniture and designing furniture, which would it be?
Make.
Why are you passionate about woodworking?
I love the creativity involved. I love the idea of designing, building, and choosing the wood. Wood is such a malleable material and it's such a friendly material–at least it can be. It's a challenge because you never know exactly what's gonna happen. The design might take a turn, or challenges might develop. It's a living material and that makes it very hard–you have to account for the fact that it's going to change shape and dimension all throughout its life. I've just never gotten tired of the endless challenges associated with working with it.
| | |
| --- | --- |
| | |
What is one tool you can't live without?
That's actually pretty easy. I love the Lie Nielson low-angle jack #62. That is the versatile tool that I use every day. It's wonderful because I travel with four planes when I'm teaching overseas–or anywhere else–and that is my biggest, heaviest tool, but I'll bring it because it's just worth what it can do. Smoothing, edging, everything you'll need to do with a plane it can do. It's not very long but it's definitely very, very capable.
| | |
| --- | --- |
| | |
| | |