Five Overlooked Hardwoods
Discover these woods and make your projects stand out from the crowd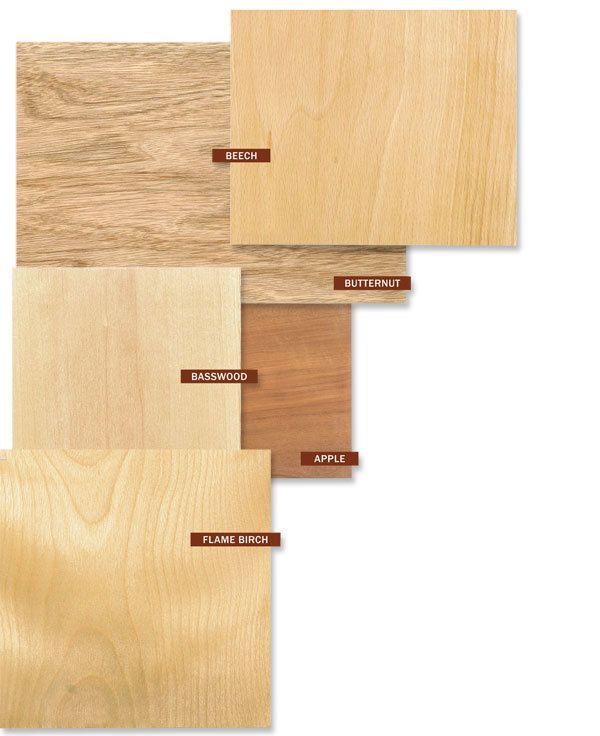 Synopsis: In their desire to stick with familiar woods such as cherry, walnut, oak, and maple, many woodworkers miss out on exploring a gold mine of unusual trees. Furniture maker and contributing editor Garrett Hack shares his list of favorite woods that are often overlooked but are worth trying for your next project: flame birch, which is beautiful but difficult to plane; butternut, similar to walnut but with a handsome golden tan color; beech, which planes and machines well and sands to a perfect smoothness; apple, dense and full of character; and basswood, easy to work with a consistent color and grain.
Teaching a class recently, I was introducing basswood as one of the materials we would use when one of the students spoke up: "Isn't that just a carving wood?" That question made me realize that there are many native woods that essentially are ignored by today's furniture makers. In their desire to stick with familiar woods such as cherry, walnut, oak, and maple, they are missing a great many unusual trees.
Early settlers appreciated the unique qualities and usefulness of each tree in the forest—that it bent well, didn't rot, was particularly tough, or sawed clear, wide boards with beautiful color. Look closely at Shaker woodworking and you'll see how readily they used many of their local woods: On a single drawer the sides could be light and strong butternut, the bottom sweet basswood, and the knobs apple, polished to a gleam over time.
My five favorite overlooked woods will add color to your palette, and their unique personalities, figure, and workability can only enhance your experience and enjoyment of woodworking. If you can't find these woods at the local lumberyard, I've included an Internet site that lists suppliers.
Revealing the figure is worth the effort
I always wondered why you see curly maple furniture, but rarely curly birch; here is a wood with the most dazzling figure that emanates from deep within the surface, with a warm, light-golden color and a very fine, smooth grain. I found out when I started working boards that flame (or curly) birch, for all its beauty, is also one of the most challenging woods to plane by hand.
Curly figure is as rare in the yellow birch tree as it is in hard maple—perhaps a tree or two in a hundred—and the intensity of curl is just as varied, ranging from a few lazy waves across a board to waves spaced inches apart that give the appearance of a quilt pattern.
I can only guess what makes flame birch so challenging to plane, for it sands, scrapes, and screws well. The curls that make it so irresistibly beautiful are broad areas of reversing grain, and being a little softer than maple, the fibers are more prone to tear from the surface rather than to cut cleanly. I thought that being highly figured, the wood would respond best to a high-angle cut, but tuning my planer for more of a scraping action still produced tearout. I was surprised to find that of my dozens of planes, only a low-angle smoother successfully handled the wood.
Flame birch will wear well, but it's only moderately stable. To be on the safe side I would not use curly birch for door panels, drop leaves, wide tabletops, or any part without good support to keep it flat.
From Fine Woodworking #185
For the full article, download the PDF below:
View PDF