From The Bench: The Rugged Journey of 600 Mallets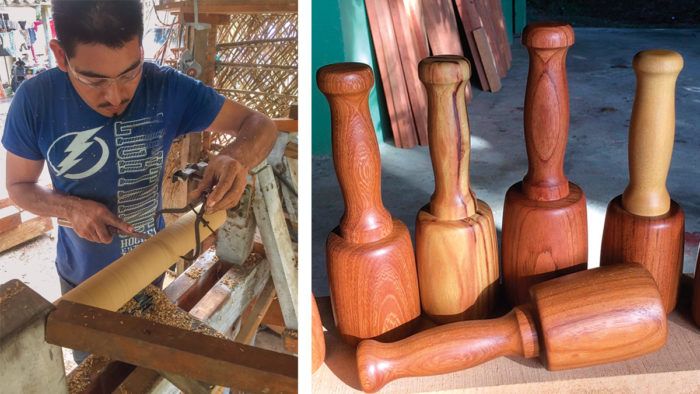 Synopsis: How the nonprofit GreenWood helped bring woodturning skills and bicycle-powered lathes into Honduras, sparking the creation of some 600 mallets that will be sold by Lee Valley. It's just one of the efforts by this nonprofit, which is dedicated to forest stewardship and sustainable development.
---
We fetched up on the west bank of the Río Sico just past noon. It was October, the heart of the rainy season in Honduras, and the river was swollen and running fast. We had been on the road in an old pickup for six hours and had last seen blacktop at daybreak. Charting an eastward course toward Mosquitia, we transited countless creeks and progressively smaller villages on a dirt road that roughly parallels this isolated Caribbean coast.
Since 1993, when I launched the field project that would become GreenWood, a nonprofit dedicated to forest stewardship and sustainable development, a handful of woodworkers have been traveling regularly to Honduras to teach artisans in remote communities. Most of these villages are well off the power grid, so we promote tools and technologies best suited to local resources: We emphasize hand tools and harvest wood species from well-managed forests. And we enable artisans to create products that can be sold locally or exported for sale. Initially, with instructors like Brian Boggs and Curtis Buchanan, we focused our efforts on greenwood chairmaking. As a result, there are a number of accomplished Windsor chairmakers in Honduras today. Lately, we've been doing more turning. In the last two years, Canadian woodworker Scotty Lewis led several GreenWood workshops, where we installed two ingenious bicycle-powered lathes of his design. A couple of dozen Hondurans have already begun turning on them.
My destination on this trip was Paya, a small village in the buffer zone of the Río Plátano Biosphere Reserve, a 1.3-million acre UNESCO World Heritage Site, home to the fabled Ciudad Blanca (White City) and the focus of considerable archaeological interest. The reserve hosts the richest biodiversity in the region, including many rare and endangered species.
Paya is where Juan Vigil has set up shop and where we aimed to collect the last of 600 carving mallets that Juan was turning— mallets we planned to export to Lee Valley Tools in Canada. Juan was the most accomplished turner we had trained in our recent workshops, which were sponsored by the U.S. Forest Service and the American Association of Woodturners (AAW). I was looking forward to seeing how his skills had progressed since our last session the year before. I also wondered how our bicycle lathes were performing.
Paya was less than 15 miles away, as the egret flies, but it would take us a few more hours to get there. Next up was a hundred-yard crossing of the Sico River, which lay before us. Some years ago, we had to plow through this river in fourwheeldrive, and that could only be attempted at very low water. Nowadays the crossing is provided by a ferry composed of two dugout canoes, planked over and powered by a 40-hp outboard.
The rest of our journey took us through a half-dozen creeks and lush cattle pastures lined with trees planted as live fencing. We crossed several decidedly sketchy timber bridges, disembarking now and then to reposition loose planks. When we finally arrived at Juan's home and adjacent workshop in Paya, we were at least half a day from the nearest power line.
Considering the remote location and the immense challenges to be found in this neck of the woods, one might ask: Why come here? What did GreenWood hope to accomplish with a lathe and a bunch of carving mallets?
Pick up your mallet from Lee Valley now!
The world's most biologically diverse forests are to be found in tropical America, Africa, and Southeast Asia. Due to economic pressures and a lack of governance, these forests— like the UNESCO site—face grave threats from illegal logging and gold mining, narco-trafficking, and the uncontrolled conversion of forest to agriculture. The enormous resulting loss of biodiversity and carbon contributes directly to greenhouse gases and is a fundamental driver of climate change—not to mention poverty.
But the millions of people who live in and around these forests depend on them for survival. If they can derive tangible benefits from the forest, they have greater incentive to protect and manage it. GreenWood provides those incentives, introducing skills that enable local people to utilize forest resources in a legal and sustainable way, developing quality products and access to good markets, and adding as much value as close to the forest as possible.
When Curtis and Brian taught our first Honduran workshops in the 1990s, they introduced shaving horses ("burros"), drawknives, and spring-pole lathes to shape the legs and stretchers of chairs built from green wood that was selectively harvested and hauled, by hand, from local forests. Chairmaker Don Weber later modified the spring-pole lathes, keeping the treadle but adding a chain drive, sprocket, and flywheel, thus providing the added power needed to turn bowls.
Scotty's two-man bicycle lathe, capable of speeds approaching 2,000 rpm, was the latest example of the appropriate technology GreenWood has deployed. In other communities in the Peruvian Amazon and elsewhere in Honduras, a diverse team of GreenWood instructors has taught wood carving, chainsaw lumber making, and boatbuilding— always deploying the tools and technologies best-suited to local resources.
When we reached Paya and Juan's shop, I was dismayed to learn that he had sidelined the bicycle apparatus to install a gas motor on his lathe. But in hindsight I see this was a natural step, rooted in necessity. Simply put, turning 600 mallets at a rate of about a dozen per day translates to at least 50 full days at the lathe. Juan struggled to hire enough pedal power among the young men in his village; and in any case the cost of their wages—plus the meals he was expected to feed them—would have priced his mallets out of the market.
Juan had arrived at a classic hinge point between sustainable development and appropriate technology. We were watching technology evolve in real time, with its predictable increase in speed, efficiency, and operator risk. But the risks—the fumes and decibels that a gas engine emits— turned out to be minimal in Juan's open-air shop. His selection of a remarkably quiet, 4-hp motor and his installation of a homemade fan on the headstock of the lathe effectively minimized noise, engine exhaust, and fine dust.
There are few better teachers than repetitive production, and it was rewarding to see Juan's confident manipulation of the gouge and skew chisel. His creation of hundreds of mallets in three different sizes and five different lesser-known wood species had honed his already impressive turning skills.
Now it was my turn to put an old tool to new use. To get the last batch of mallets back to the United States for transshipment to Canada, I repurposed my old hard-shell camera case and packed it to the brim with 100 freshly turned mallets. After a flight to Miami I endured a series of interviews with baffled Customs inspectors, but I was finally waved through with a "getoutahere," and the mallets were on their way again, helping ensure that craftsmen like Juan could continue to play a role in building a better world while turning a better mallet.
Scott Landis, president of GreenWood (greenwoodglobal.org), lives in South Berwick, Maine.
Photos: Scott Landis
From Fine Woodworking #277