From the Bench: Tools from My Father
One son's reflection on cleaning out his father's woodshop.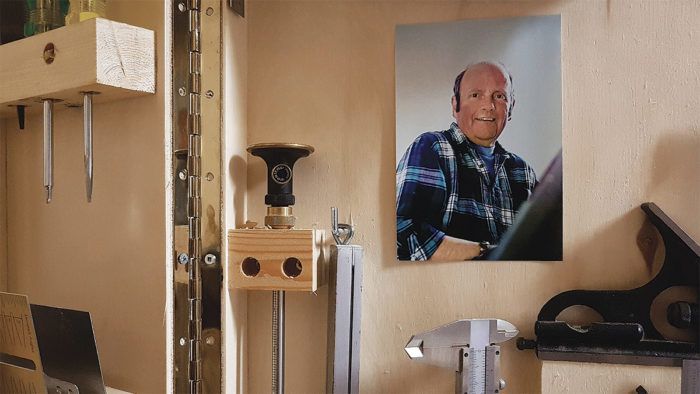 By the time I took my first suitcase of tools back home to Toronto from my parents' house in Newfoundland, Dad hadn't been in his workshop in any meaningful way for three years. It wasn't the basement shop where I cut my teeth, but a cramped, downsized version in the downsized home they had bought as empty nesters. The house was a fixer upper, which suited Dad to a T. He had finished the renovations just as the crippling pain took hold.
A disused workshop is a sad sight. During those three unproductive years, his shop had become an ad-hoc storage room covered in dust rather than sawdust. Since we had never worked shoulder-to-shoulder there, it didn't feel like his shop to me.
Sorting through his tools while he languished in his chair upstairs, I kept a practical distance to my decisions. Was it worth taking up valuable suitcase real estate with the biscuit joiner? (Yes.) His Mastercraft bench chisels? (They'll do for now.) His router? (Guess I don't need two.)
I allowed myself just a couple of compact sentimental selections: a small plane with a curved blade set in a wooden handle that fits nicely in the palm for easing edges, and a Stanley nail set at least 30 years old, though the exact model can still be found at any box store for under $10. I chose them because when I hold them, I can immediately picture his hands.
Back in Toronto I sharpened the bench chisels and put them to work on my first furniture commission, an outdoor dining set in quartersawn white oak. The joinery—drawbored mortise-and- tenons, bridle joints, and even a couple of dovetails—was beyond anything my father had taught me. On the phone I told him how well his old chisels had performed after a good sharpening and explained the techniques I was learning.
Our teacher-student relationship was being turned on its head. If Dad was able, he would have puttered off to the workshop after our long-distance chats to try things for himself. On trips home I could have shown him firsthand; we could have made something together like old times.
A month or so after he died, Mom and I were talking by phone. I was a few months from moving to the West Coast with my wife, adding a few thousand more miles between us. Mom was on a mission to ship dad's tools to me, and our move was complicating things. But that day I could hear relief in her voice. You'd be amazed how cheaply you can ship a ton of tools 5,000 miles with a little patience and the determination of a retiree.
A couple of months later I was back in dad's small workshop, dismantling his Craftsman radial-arm saw for shipping. Practicality was out the window by now. This was the first machine dad taught me to use, and it was coming with me.
That was almost two years ago. Dad's machinery waits in storage for a permanent home, but his smaller tools have found use in my shared, city shop here in Vancouver. I have a son of my own now. He'll never know his grandfather, but at least I'll teach him on the same tools my father used to teach me.
From Fine Woodworking #275