One Routing Template For a Perfect Fielded Panel
One routing template is all you need to make this fielded panel with veneer and stringing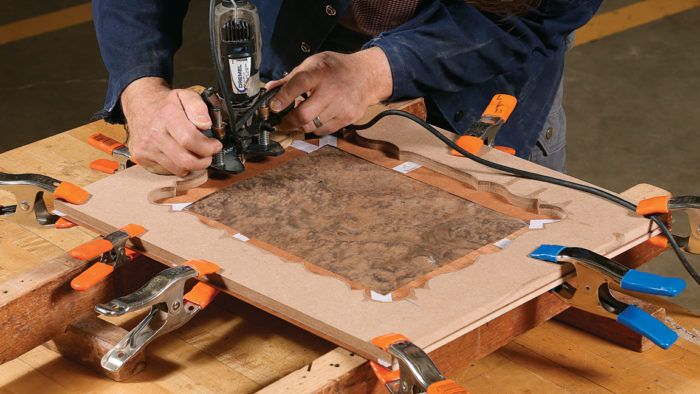 Synopsis: The fielded panel, so characteristic of Federal design, has been part of the craftsman's repertoire for centuries. Steve Latta adds a modern twist to his period-style designs, though. He cuts the veneers using a Dremel tool, equipped with micro end mills, and an MDF template.
A notable characteristic of Federal furniture is large flat or serpentine surfaces that, left unadorned, can look more than a little boring. Period makers often turned these barren surfaces into fielded panels made with veneer, evoking their frame-and-panel predecessors and bringing vitality and depth to a piece. But while this centuries-old technique is steeped in history, my approach has a modern twist: Instead of cutting the veneers with a fretsaw, I use micro end mills chucked in a Dremel tool to cleanly and precisely rout around an MDF template.
The design of this fielded panel combines cyma curves, straight shots, and circular corners. Whether you copy mine or make your own, start with a quarter version printed out and spray-mounted to a piece of 1⁄2-in. MDF. I cut the circular corners with a Forstner bit, cut close to my line with a scrollsaw, and then refine the curves.
If you want, you can make the quarter template and stop there, repositioning it as you rout around the perimeter. Instead, I used the quarter template to make a full template, simplifying routing. To make the full version, trace the quarter template around another piece of 1⁄2-in. MDF and cut out the interior at the scrollsaw. Then cut flush to the line using a router table and the quarter template. To toughen up the MDF, I follow the advice of longtime teacher Will Neptune and squirt cyanoacrylate glue along the edge. It soaks in and hardens, extending the life of the template.
The veneer design consists of two components, the border and the field. Start with the border. For the border on this panel, I crosscut strips of mahogany veneer using a slicing gauge and created a frame that is mitered at the corners. Next, I taped the field and border together.
For the full article, download the PDF below.
More on FineWoodworking.com:
View PDF