Elements of Federal
Take a walk through history and learn how to combine the classic elements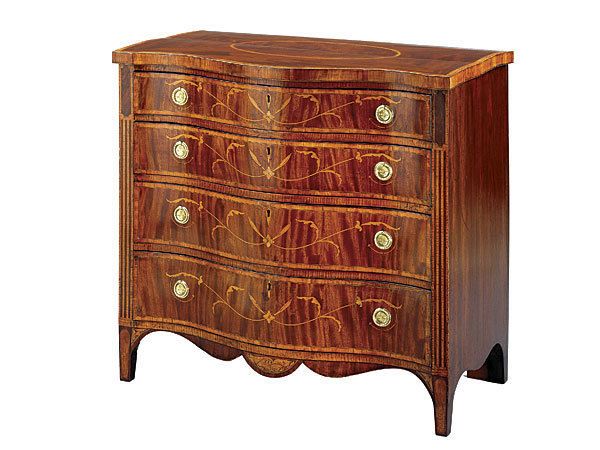 Synopsis: The Federal period was an exciting time for the young United States and a prolific one for furniture makers. Stringing, banding, exotic veneers, and inlay are some of the elemnts typical of the period. Contributing editor Steve Latta, who has built Federal-style furniture for 20 years and recently did his master's thesis on the subject, takes you through the essential features of Federal design and shows you how to combine these classic elements in your own furniture.
From Fine Woodworking #218
The Federal period, roughly from 1785 to 1820, was an exciting time for our young nation. The country's wealth was growing, transatlantic trade was flourishing, and the nation's elite, along with an expanding middle class, had money to spend for homes filled with the finest furniture in the latest styles.
Despite the alliance with France during the war of Independence, when peace returned America looked to its roots and embraced English design trends that, unlike its own, had continued to evolve throughout the war. The Chippendale era had been usurped by an emerging neoclassicism, encouraged by the large scale excavations of herculaneum and Pompeii in 1738, cities that boldly displayed both Greek and Roman styling. The infant United States of America saw itself as the fulfillment of the noble ideals promoted by ancient Rome and felt it only appropriate to adopt its style.
Three of the most influential designers of the neoclassic period were Britons: Robert Adam, George Hepplewhite, and Thomas Sheraton. Their design books were highly influential on both sides of the Atlantic. In America, these craftsmen helped define the era: John and Thomas Seymour of Boston, Duncan Phyfe of New York, John Shaw in Annapolis, and the firm of Bankson and Lawson in Baltimore. Scores of lesser-known artisans made contributions, leading to one of the brightest and most sophisticated periods of American furniture.
I'll talk about the essential decorative features of the period, using pieces from Colonial Williamsburg's distinguished collection to illustrate the points.
If you're new to Federal, its feast for the eye may seem overwhelming. But there is no need to sample everything on the menu. For two centuries, designers have gone à la carte on the theme and it's fine for you to pick your favorite elements, too.
For the full article, download the PDF below:
View PDF