Show off the functional beauty of your tools
Jim Puterbaugh believes tools have functional beauty and there's no better place to put that beauty on display than in your shop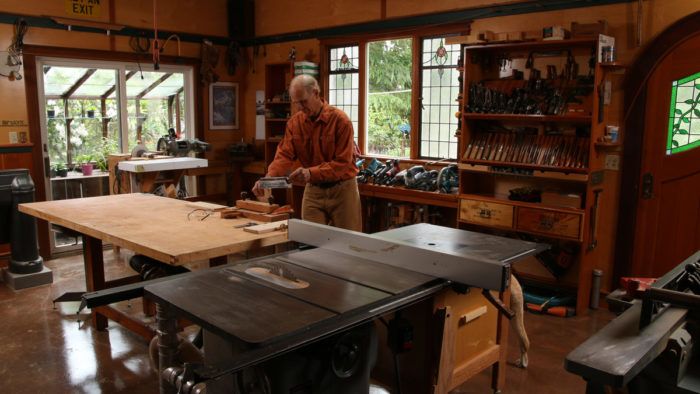 Jim Puterbaugh is a physician and longtime avid woodworker in Portland, Ore. A few years ago he submitted an article proposal to about how he prefers to store tools in his shop. He likes to keep his hand tools and power tools out in the open, where they are within easy reach, and where they can be appreciated. Tools, he believes, have functional beauty and there's no better place to put that beauty on display than in your shop. We liked his notion of an open shop, because, really, hand tools are beautiful, so we set about to create an article with him. Along the way, the article was delayed for a  year, which is why it's in Tools & Shops 2018 rather than in the Tools & Shops 2017. Below are some photos of Jim's shop, both from the article and a few that didn't make it into the article. I hope you get some good storage ideas from them, and from the article as well.
Turning tool storage

Jim's lathe tool rack is in the print article, but his lathe isn't. I won't lie. That's a pretty machine. The rack has two parts, in the back is two strips of hardwood with a spacer between them at either end. The slot between them is where the bigger tools go. Jim likes this design because when he is turning tools fly about a bit too much to see quickly where a tool goes, and any bracket with "a spot for each tool" would be problematic as he'd just be guessing which tool went where.
Jim's wife found this cabinet in a secondhand store. Its cubbies turned out to be just the right size for screw and nail boxes, with enough room left over for a stereo receiver.
Above this secondary bench is where Jim keeps his screwdrivers, files,  and other tools handy for working metal. They fit into oversize holes, which makes it easy to pull them out and put them back.
Power tools, clamps, and even a compressor are quick to locate and put into service because they're out on display. Moreover, there's no easy way to pile wood and other stuff on top of them, so they're always at the ready.
Jim's wrenches aren't exactly out in the open, but he does keep them organized, so with a quick glance he knows if the one he needs is there, and just where to put it back when he's done. (I imagine his wrenching is less hectic than his turning, which is why dedicated spots for each wrench works.)
For more you'll have to check out the Jim's article about his open shop style in the Tools & Shops 2018 issue in November.
More on FineWoodworking.com: