Choosing a Compressor
The way you work and the tools you use determine your air-supply needs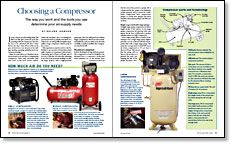 Synopsis: How much air do you need? This is more than just a standard tool review; it's an overview of groups of air compressors, useful to woodworkers of varying levels. Roland Johnson reviews different pumps, capacities, and configurations—portable compressors, midsize machines with some portability, and large stationary machines—and assesses the advantages of each. You'll also find a glossary of compressor parts and terminology. Side information addresses compressor maintenance.
From Fine Woodworking #164
In my custom woodworking shop, the first tool that gets powered up in the morning is the air compressor. It is also the last to be switched off after I have blown the day's dust off me with an air gun. In between I use air power for nailing, sanding, spraying, grinding and even vacuum-pressing.
Many woodworkers are skeptical about air-powered tools and the accompanying compressor. Their only encounter may have been at the local service station, where the mechanic uses a screaming air-powered wrench to put the nuts back on a wheel of a car with gorilla-strength torque, while a huge compressor clatters away in the corner.
This experience may have led to the belief that to use any air tool other than a brad nailer requires a compressor with at least a 6-hp pump and a 60-gal. or 80-gal. tank. If you are a full-time woodworker planning to do a lot of air-powered sanding or to finish large projects with a high-pressure spray gun, then you will need one of these larger compressors. But if you are a weekend hobbyist, and you select your air tools carefully, a small or medium-size compressor may fit the bill.
Before deciding how big and how powerful a compressor to buy, it is helpful to understand how a compressor works and what variations are on the market. Most compressors have an electric motor that powers a pump. Air is compressed by the pump to its maximum output pressure and is stored in a tank. Some compressors have rotary-screw pumps or rotary-vane pumps, but most machines have piston pumps, and I'll focus on these.
A single-stage pump compresses air with a single stroke of the piston. A two-stage pump compresses air partway with one piston; the air then is delivered to another cylinder where it is fully compressed.
For the full article, download the PDF below.
View PDF