Don't underestimate the power of a small shop
Just some simple tools and a desire to make things—that's all you need.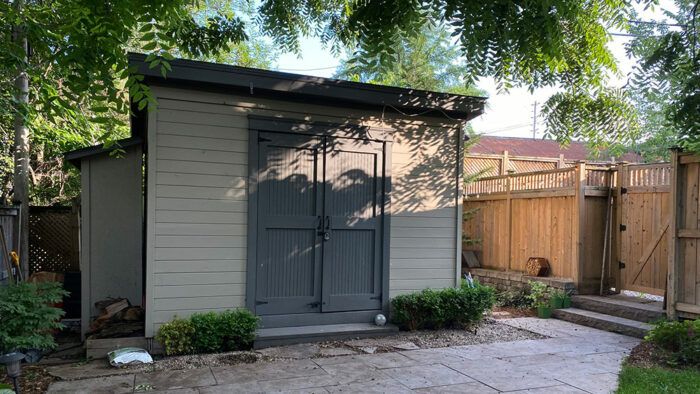 I've been telling folks for years that you don't need all the machines, all the space, and an unlimited budget to get into woodworking. Is it nice to have room, tools, and gadgets? Sure it is, but you don't need them. In my first book, The Minimalist Woodworker, I laid out a basic set of hand tools and small space ideas that will get you started. This modest setup will get you woodworking in almost any space whether it's on the kitchen table or back deck. I would check with the other members of your household before using the kitchen table … just sayin'. 
My old friend Dan (old because we have been buds since grade 7) has a cool little setup in his backyard shed. He does all manner of creating in this cool little space including woodworking, and recently I was the benefactor of his work. We've moved a lot in the last couple of years and I'm excited and relieved to say that this latest house (and shop) is the one! Dan and his family paid us a visit recently to check out the new place and to present us with some housewarming gifts. I swear we don't move a lot just to get the gifts!
While Andrea received a gift to support her joy of gardening, Dan gave me this awesome headphone stand that he made in his tiny shed shop. He's seen me wearing headphones on the FWW podcast, so he felt that my headphones required a classy place to hang out, literally. The base and rest are made from ambrosia maple and hard maple respectively, and the support is made from a solid brass rod bent into shape. You can see by the photos that the execution is darn near flawless and it's a more elegant solution than my habit of chucking them on my  desk. 
Dan's shop is a standard 12 x 8 shed that serves many other purposes as sheds are wont to do. The woodworking side of the shed is just short of 8 ft. long and 24 in. deep with a functional work area of just over 6 ft. It's not a lot of room by some standards, but clearly enough to make small objects or furniture like side tables or even a chair. The tool kit is modest as well: no fancy high-end brands and much of it from various DIY centers. Just some simple tools and a desire to make things with his hands. 
The desire to create and work with our hands, I believe, is an innate want that we all have deep down. We all were artists at one point as evidenced by the work proudly curated and displayed on most family refrigerators. At some point we lost faith or confidence in our ability to create, which is sad for many reasons. Dan works full time on a computer for a living, but he refuses to let digital documents be his only source of making. Thank goodness for that because I would still be tossing my headphones on the desk.
No big shop. No expensive tools. Just a desire to make something. That's all you need to be a woodworker.
Thanks, Dan!
| | |
| --- | --- |
| | Yup, Vic Tesolin is moving shop again. What will he keep and what will he get rid of? |
| | Shop move teaches Vic that in woodworking, as in life, it pays to be flexible. |
| | Don't hesitate to shop around for your shop flooring. |