MotC: Hank Gilpin – Exploring the American Forest
Gilpin's furniture, always made in solid wood with traditional joinery and a heavy dose of hand tools, is remarkable for its unusual mixture of practicality and playfulness—and for the fluency and pure delight of its design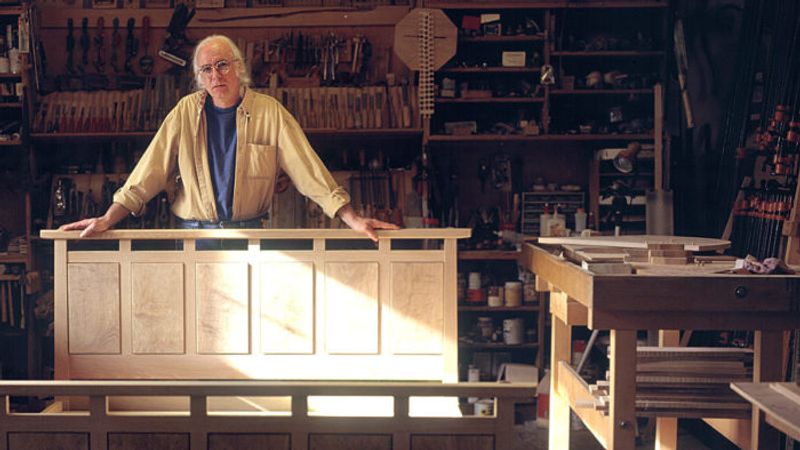 Jon Binzen
Hank Gilpin's adventures with wood began one morning in 1971 in Providence, Rhode Island. Just back from a tour in Vietnam, where he had served as a photojournalist in the Army, he was enrolled to study photography at Rhode Island School of Design. Needing an elective to fill out his course schedule, he blindly chose one in wood. The teacher turned out to be the charismatic Tage Frid (whose own experiences with wood began at age 13 with an apprenticeship in his native Denmark), and by the end of the first class Gilpin had decided to switch majors.
After a couple of years at RISD and then a stint working in Frid's own workshop, Gilpin opened his own shop. He renovated a small former church just north of Providence, and he's been living and working there since.
Gilpin's furniture, always made in solid wood with traditional joinery and a heavy dose of hand tools, is remarkable for its unusual mixture of practicality and playfulness—and for the fluency and pure delight of its design. The work is also marked by Gilpin's passionate exploration of the American forest. As he describes in this slide show, he's been working almost exclusively with domestic woods throughout his career, and each season seems to find him discovering another unexpected species that suits his purposes precisely.
originally posted 2/10/10
More on Hank Gilpin