MotC: Tool Chest with an Arts & Crafts Legacy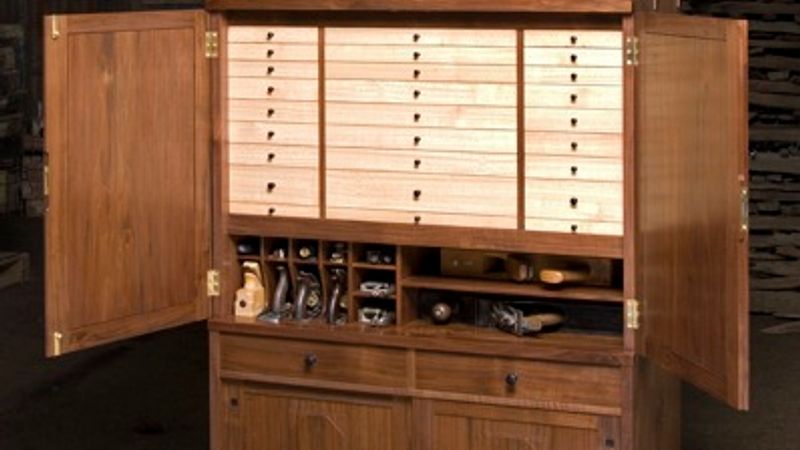 Originally published 11/4/2010
Growing up in Illinois, Trevor Hadden often spent time in his father's home woodshop, so he was familiar with woodworking tools and techniques. But when he found himself spinning his wheels after high school, he decided to get some deep training in the craft. Through the Baulines Craft Guild in Northern California, he found Michael Cullen (whose carved furniture was on the back cover of FWW #184 and featured in a companion slide show), and soon began a tuition-based apprenticeship at Cullen's Petaluma, California shop.
As the apprenticeship unfolded, Hadden discovered that Cullen and the program he ran were directly linked to the Cotswold group of furniture makers, members of the English Arts & Crafts movement who left London in the 1890s for the English countryside and learned to make furniture by hand as well as to design it.
Hadden became fascinated by this lineage and immersed himself in books on the English Arts & Crafts movement. He admired the aesthetics as well as the philosophy behind much of the Cotswolds furniture, and he felt a particular affection for Edward Barnsley, whose life and work he explored through Annette Carruthers's outstanding book, Edward Barnsley and his Workshop.The links went this way: Hadden's mentor, Michael Cullen, had studied in the 1980s under English furniture maker David Powell at Leeds Design Workshops in Easthampton, Massachusetts. David Powell had apprenticed forty years earlier in the shop of the celebrated Edward Barnsley in southern England. And Edward Barnsley was the son of Sidney Barnsley, who, along with his brother Ernest Barnsley and their friend Ernest Gimson, formed the core of the Cotswold group.
When it came time to build the culminating project of his apprenticeship, Hadden decided to make himself a tool chest. In the process of building it, by incorporating elements derived from Arts & Crafts furniture and from tool boxes built by Michael Cullen and David Powell, Hadden has made a handsome tool chest that is also a reflection of the rich legacy of training he has inherited. See it on the back cover of Fine Woodworking #216.