Makita - Makita LS1018 Sliding Compound Miter Saw
The sliding and chopping actions are very smooth and precise.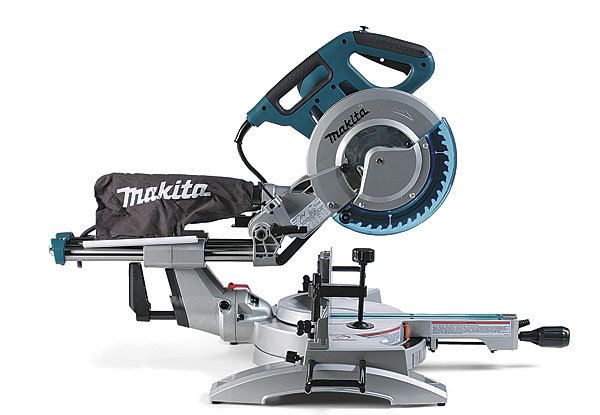 Sliding Miter Saw Handles Big Boards
When I need to make an accurate crosscut for a piece of furniture, I use my tablesaw. But jobs like rough-cutting a piece or trimming a long part to length are easier to handle with a sliding miter saw. I have two non-sliding miter saws, but I have been looking to upgrade to a sliding model. I think I've found what I was looking for. The Makita LS1018 10-in. dual-bevel sliding miter saw, which I've been using in my shop, is a great saw and a big improvement over my old ones.
After making some minor adjustments to the fence and bevel stops, I was able to make cuts that any finish carpenter would envy. Soon, though, I had the saw dialed in to make furniture-quality cuts. From day one, I found the saw pleasing to use. The sliding and chopping actions are very smooth and precise. The grip is comfortable and is oriented on the housing so I was able to use it with either my right or left hand with no trouble.
More from FineWoodworking.com:
Changing the miter and bevel angles is intuitive and easy. The miter controls are at the front, while the bevel lock is at the back. Stops for 90° and 45° held the head assembly securely. The supplied dust bag works well but fills up quickly (after about 20 to 30 cuts through wide boards). Dust collection was even better with a shop vacuum hooked up to the port (11⁄4 in. I.D.) on the back of the head assembly, collecting about 90% of the chips.
When set up for a 90° cut, the saw can handle boards up to 12 in. wide. At 45°, it can still crosscut an 81⁄2-in.-wide board. That capacity is thanks to the sliding rails, but those rails have a downside, too: The saw takes up a lot of space. To put the saw on a countertop against a wall, you'll need a surface that's at least 33 in. deep, and another 10 in. of clearance in front of the saw for the miter control handle. Still, I like this saw and am willing to find the space it needs.