10-in. Sliding Compound Miter Saws
They're versatile, accurate, and reasonably priced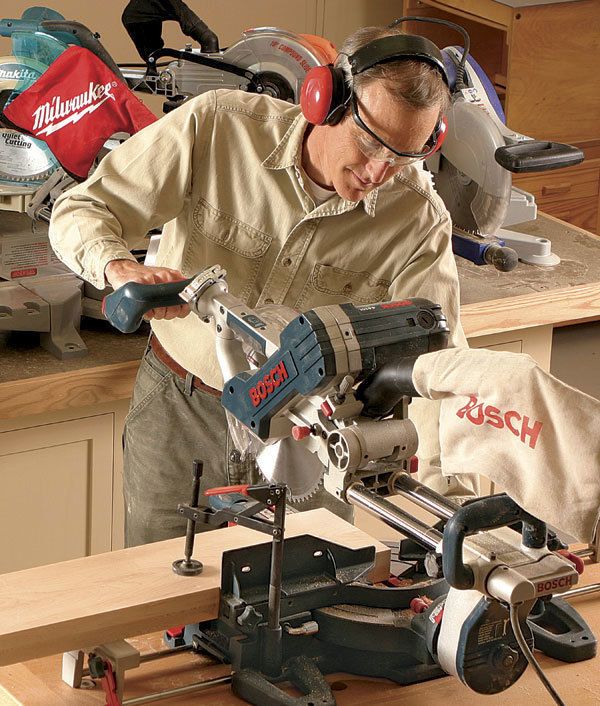 Synopsis: The ability to miter, bevel, crosscut wide material, make compound cuts, and even plow dadoes makes the 10-in. sliding compound-miter saw a perfect fit for many shops. But some saws achieve the compromise between performance and price better than others. Andy Beasley reviews six 10-in. sliders currently on the market, focusing on smoothness, accuracy, power, and ease of use.
If you're like me and didn't make a fortune by starting up a computer software company, you probably juggle cost and performance tradeoffs when making a purchase for the shop. A well-made tool that's capable of multiple tasks is always near the top of my shopping list. That's why I like the miter saw so much. But if you are shopping for a miter saw, the choices can be bewildering, with four major types available. There are fixed compound-miter saws (CMS) as well as sliding compound-miter saws (SCMS), and both come in 10-in. and 12-in. blade sizes.
To help select which type you need, consider two common scenarios: mitering tall moldings and crosscutting wide stock. Compared to any SCMS, both the 10-in. and the 12-in. CMS can cut taller material standing vertically against the fence, but the 10-in. sliding saw beats both CMS sizes when you lay the molding flat on the table. Need to crosscut a 12-in. plank? Forget about a standard CMS; even the 12-in. version can crosscut only about 8 in. Finally, while a 12-in. sliding saw can crosscut wider stock than a 10-in. model, you'll pay about another hundred bucks for the measly half-inch of additional capacity.
The ability to miter, bevel, crosscut wide material, make compound cuts, and even plow dadoes, all at a reasonable price, makes the 10-in. slider a perfect fit for many shops. However, some saws achieve this compromise between cost and capability better than others.
A good saw is the sum of its parts
A sliding compound-miter saw must perform three basic operations: The head must pivot to create miter cuts; it must tilt to perform bevel cuts (the compound action makes use of both features); and the cutterhead must slide in and out on tubular steel guide rails to give the machine its impressive crosscut capability.
I tested the six 10-in. sliding compound-miter saws on the market. All offer similar cutting capacities, but two were available as left-hand, single-bevel models only. To cut a right-hand bevel you must swing the workpiece around, perhaps awkward in a cramped shop.
Brands tested are the Bosch 4410L, Chicago Electric 90891, Hitachi C10FSH, Makita LS1013L, Metabo KGS 303, and Milwaukee 6497-6.
From Fine Woodworking #186
For the full article, download the PDF below:
View PDF