Bosch - GCM12SD Sliding Miter Saw
Bosch puts its bevel lock at the front of the saw for convenience and the saw tilts 47° in both directions and miters 60° right and 52° left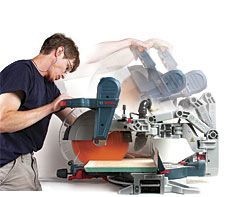 Sliding miter saws are a mainstay of many home woodshops. The reason: their 12- to 14-in. crosscut capacity. This is most commonly achieved by one or more sliding tubes that provide the travel for the blade, transmission, and motor assembly. It's a time-tested design, but there are a couple of problems. One is that the tubes stick out about 12 in. beyond the rear of the saw, requiring that the saw be positioned that distance from the wall. As a result, you end up with 2 or 3 sq. ft. of wasted space behind the saw—and most woodworkers would rather put that space to better use. The other is that the sliding mechanism introduces some flex and inaccuracy.
Bosch has solved these problems with its newest 12-in. slider. The saw uses a pair of hinged arms, each with three knuckles, to provide the travel for its 13-1/2-in. crosscut capacity. The big benefit is that you can put the saw right up to the wall. In addition, it's very accurate because of the tight tolerances in the hinged arms. And you can adjust the tightness of the mechanism to your personal preference.
The saw bevels to 47° in both directions and miters to 60° right and 52° left. There are nine detents for common miter settings. Although we've seen it on past Bosch miter saws, I really like the up-front bevel control that eliminates reaching around the back of the saw for bevel adjustments. After replacing the stock 60-tooth blade with a 90-tooth version from CMT because it had less runout, I tested the saw with a number of cuts and materials and it performed exceptionally well right out of the box. The cuts were furniture-quality.
Bosch's new saw (No. GCM12SD) is accurate, the controls are precise and intuitive, and the space-saving design is icing on the cake. At $800, the only downside is the price.