FWW in Search of a New Web Producer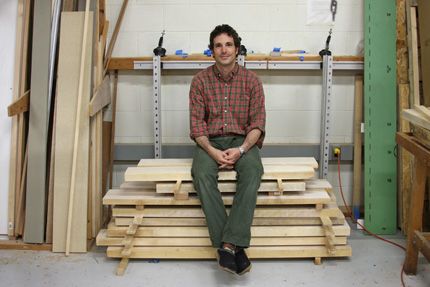 The September 25, 2015 edition of Shop Talk Live (episode 94) was a difficult one for me. For those of you who caught the entire episode, you heard me announce my departure from the saw-dusty halls of Fine Woodworking magazine. I've had a bit of a life shift and am moving on to a new chapter. It is most certainly a bitter-sweet moment. Sure, new opportunities are presenting themselves to me but, make no mistake, this has been the single most satisfying, inspiring, and just plain fun job I've ever had. That said, now it's time to hand over the reigns to a fresh new Web Producer. This could be your shot to produce online content (audio, video, and more) for the world's leading periodical on the craft of furniture-making.
To those of you who have become regular listeners to our biweekly podcast, Shop Talk Live (my baby for the past 3-1/2 years), and to others who have written me nice comments and compliments on the Not-So-Big Workbench Video Workshop series: thank you. Thank you for helping to make my tenure at Fine Woodworking so rewarding. I will miss this place more than you know.
Fine Woodworking Magazine Seeks a Web Producer
Here's the official job description. If this position interests you, please visit Taunton's Careers page.

Fine Woodworking, a leading provider of woodworking information online and in print, is seeking a web producer with at least 3 years' experience.
The web producer is responsible for all content on FineWoodworking.com, including videos, blogs, and our biweekly podcast, as well as identifying opportunities for web content and features. The successful candidate is a multitasking dynamic self-starter who thrives in a collaborative environment. This is not just a technical position. Although you must have a basic understanding of HTML and how websites work, you also have to be a competent content producer skilled in shooting both videos and still photographs, and you should be comfortable both behind a camera and in front of it. Candidate must also display strong writing/editing and project management skills along with use of site metrics, competitive analysis and web trends. Woodworking knowledge is a must, and familiarity with content management systems, PHP, video-editing processes, Wireframing, Photoshop, and MS Office is a plus. You should also be comfortable with basic audio editing and e-letter production. Some travel required.
Position is in our offices in Newtown, CT. EOE For more details, and to apply, visit careers.taunton.com.