Laguna - Laguna 14/Twelve Bandsaw
Compact, stable, and comes with easy-to-set ceramic guides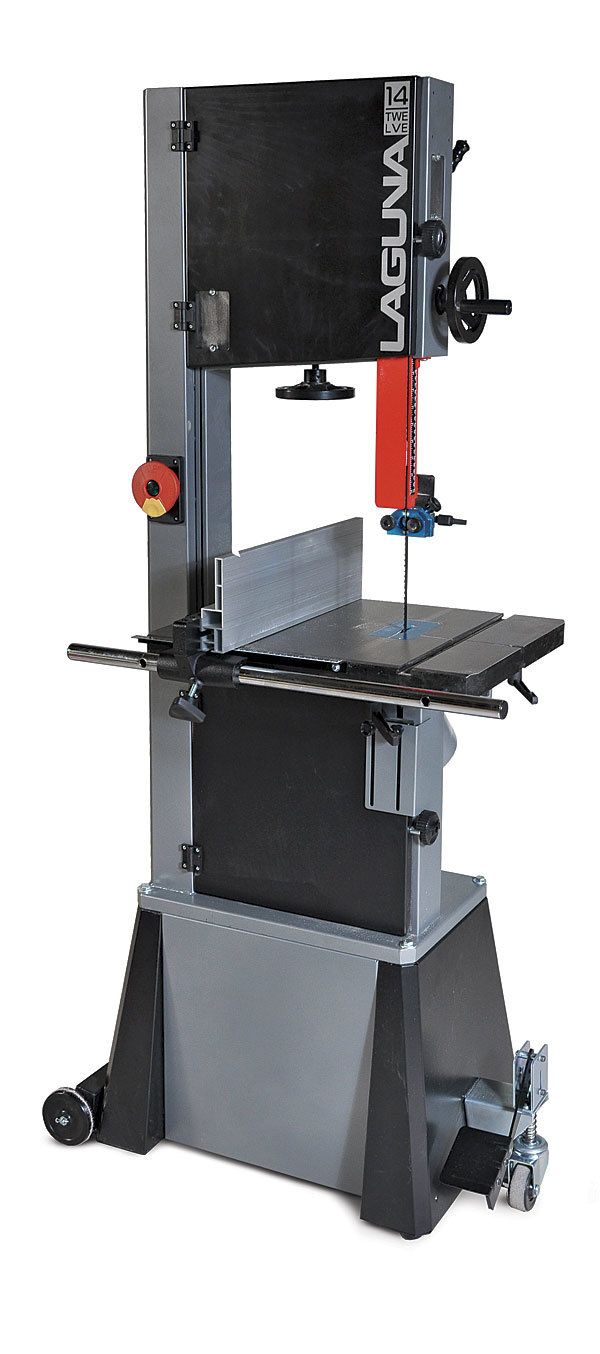 High-End Bandsaw that Won't Break the Budget
From FWW #244 (Tools & Shops 2015):
The Laguna is full of smart features. No tools are needed to install a blade and adjust the guides. It has the largest throat of the saws tested, making blade changes much easier, and the aluminum throat plate has leveling screws. The guides are ceramic, a welcome feature on a saw in this price range. The motor is wired for 110 volts, a plus for those without access to a 220-volt circuit.
Excellent two-position fence, big table, and plenty of power.
Street price: $1,097
Motor (HP): 1-3/4
Resaw capacity: 12 in.
Ease of blade changes: Very good
Ease of guide adjustments: Very good
Guide-post alignment: Excellent
Guide-post rigidity: Good
Dust collection: Very good
Fence: Very good
Resaw cuts: Good
Curve cuts: Very good
From FWW #238 (January/February 2014):
Last winter, while touring with The Woodworking Shows, I saw a prototype of the Laguna 14/Twelve bandsaw and was impressed. Now, after using a production model of the saw for a few weeks in my own shop, I highly recommend it.
First off, I like the scale of this machine. It's compact, yet you get a 14-in. throat and generous 12-in. resaw capacity. The 16-in. by 21-1⁄2-in. table rivals that of many larger bandsaws, and the massive trunnions keep the table stable, even when tilted.
The 1-3⁄4-hp motor has plenty of power, and it works on 120-volt circuits (can be rewired for 240 volts). Stout cast-iron wheels, with polyurethane tires, provide vibration-free inertia and smooth operation.
What I really like about the saw is that it comes with easy-to-set ceramic guides. These high-end guides are not typically found on bandsaws in this price range, a nod to the value inherent in this machine. The super-stout upper guide post works smoothly and moves accurately throughout its travel, a boon for resawing. The saw's 5-1⁄2-in.-tall fence is perfect for resawing, but it's easily flipped down for ripping too. I found the table-mounted scale to be very accurate when referencing the fence. Dust collection is great, thanks to a 4-in. port just below and behind the lower guides.
Other small details that add big benefits include a window in the upper frame that makes it easy to track the blade. Laguna also placed a convenient electrical outlet on the back of the saw for a worklight. Finally, the oversize throat plate features leveling screws so there are no hang-ups while you saw.
All in all, this is a well-engineered bandsaw with big-time features at an affordable price. The mobility kit ($150) and work light ($100) are options worth considering.
More Reviews from FineWoodworking.com: